Street League
Tune in and watch Street League's 2015 Nike SB Pro Open Kick-Off special on Fox Sports 1 this evening at 8pm ET. Click right here to locate your local listing.
At the close of the Nike SB Pro Open Finals, it all came down to last tricks for Nyjah Huston and Paul Rodriguez for first and second place. New SLS Pro recruit, Evan Smith seized third place with an impressive outing in Barcelona. Drop by the Street League site for complete recaps on the action.
Final Results
Nyjah Huston 34.2
Paul Rodriguez 33.8
Evan Smith 32.4
Chaz Ortiz 32.3
Tom Asta 31.7
Manny Santiago 31.6
Shane O'Neill 30.5
Chris Cole 28.1
The SLS Nike SB Pro Open takes place this weekend at the brand new Skate Agora BDN in Barcelona, Spain where thirty of the best rookie pros, not currently in Street League, will battle for eight spots and move on to the Semi-Final Heats on Day two. They will then skate against the current line up of SLS Pros.
Be sure to tune into the live webcast May 16th and 17th at streetleague.com – times are listed below.
May 16th
3:30pm CEST
May 17th
12:30pm CEST Semi-Finals
5:00pm CEST Final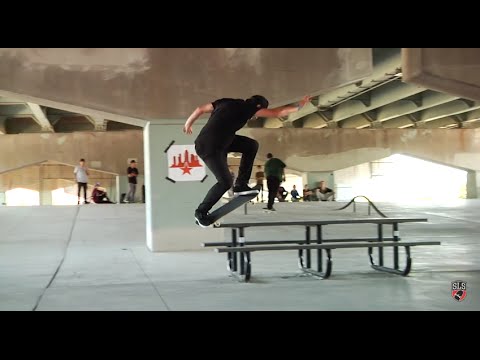 With the recent partnership between Street League and Skatepark of Tampa last month, they are now proud to announce the Damn Am Select Series for 2015. Damn Am Select SeriesHead over to their official web page for the schedule, all details, and registration info.

Last month's the 21st Annual Nike SB Tampa Pro Street League welcomed two new pros into the 2015 SLS Nike SB World Tour, Felipe Gustavo and Kelvin Hoefler. In this Monster Energy Makin' The Cut you'll hear first hand what it means to them to be the newest SLS Pros.
See full Nike SB Tampa Pro results, videos, photos and more on the Tampa Pro Coverage Page.
The 21st Annual Tampa Pro has begun and the live webcast exclusively through StreetLeague.com has kicked off with the Semi-Finals. The top 28 from yesterday's Qualifiers along with any past winners of Tamp Pro will skate today where the top 10 will meet up with Golden Ticket winners Shane O'Neill and Ishod Wair in this afternoon's Finals. And of course, don't forget the live coverage of the customary Moat Race!
Again, visit the live webcast right now, and you will also find out which two finalists will become the two new SLS Pros heading into the 2015 SLS NikeSB World Tour. In addition, all respective dates and locations are to be announced as well.