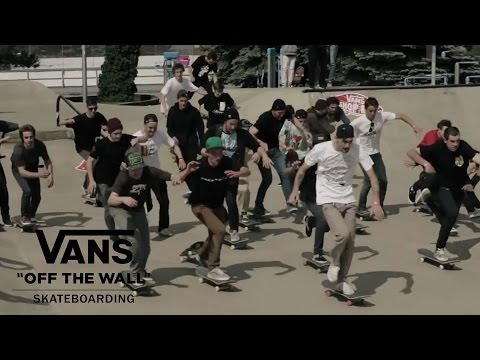 It's been a whirlwind five-month build up, taking in 16 stops across Europe and bringing together over 200 of best shop teams from across borders, with the best store team from each leg earning themselves a place in the Vans Shop Riot Series finals. While it's gone quickly, it has been quite a journey and we've seen some epic showdowns during the course of the series. From revisiting some of the favorite parks and spots from previous years, such as Chelles' Cosanostra skatepark (FR), to bringing a bit of culture to the scene as the Nordic leg set up right outside Helsinki's Kiasma Modern Art Museum (FI), the cream of European skate shops assembled their finest teams and set out to shred their way across the continent.
One of the favorite stops of the series has been Aalst's 'Flesh & Bones' skatepark, aptly named given the amount of skin it claimed during the Belgian leg of the Vans Shop Riot earlier in the year. Fittingly, this skate zone becomes the battleground for this weekend's finals, and as such will bear witness to teams from Moscow to Manchester thrashing it out in what's set to be an awesome end to 2014's hotly contested series.
Beginning this Saturday, October, 11th, tune in to watch the battle for the title of Vans Shop Riot Top Shop Team, 2014. It will be live streamed right into your desktop, laptop, tablet, smartphone or ridiculous Google glass for that matter.
Keep an eye on VansShopRiot.com for reviews of the final stops, news and exclusive insights behind the series, and Vans' Facebook page, Twitter and Instagram for updates and live notifications.