Red Bull Skateboarding
Cody Lockwood dishes out five heavy hits for Red Bull Skateboarding's 5 For 5 edit. Have a look!
The search for spots through the Holy Land continues with Felipe Gustavo, Korahn Gayle, Rob Maatman, Boaz Aquino and Fries Tailieu duking it out on the lesser-seen terrain of the Levant. Click here to revisit part one of the journey.
Red Bull Skateboarding presents the first part of a skate adventure into the Thai jungle. The genesis of this quest lay in cameraman Nick Richards, who showed a lot of tenacity, research and patience in pulling this first-ever trip of its kind off.
Enlisted for their ATV skills and sense of adventure were Santa Cruz's Justin Strubing and Stereo pro Clint Peterson alongside Dylan Hughes and Daryl Dominguez. Keep your eyes peeled for part two shortly.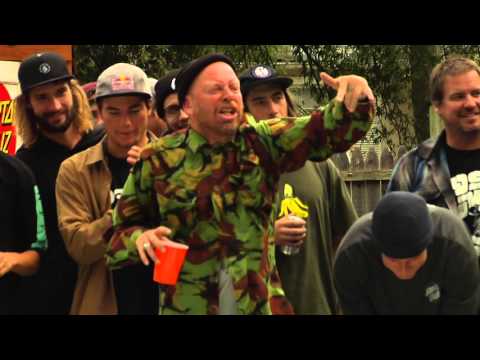 On Saturday, October 24th, 2015 Red Bull Skateboarding teamed up with Creature & Santa Cruz Skateboards/Indy Trucks/OJ Wheels/Bronson Speed Co. to throw a 21-man invite-only backyard bowl bash at Pat Lowery's legendary Richmond, Virginia Lost Bowl.
With a field of some of the top ams, pros and East Coast up and comers, the day consisted of seven 7-minute 3-man heats followed by a 29-minute everyone-in chaos session set to Slayer's "Reign in Blood" (inspired by Jim's Ramp Jam of 1996) and three best tricks. In a rarely seen contest decision, the inmates were put in charge of the asylum and the 21 skaters were asked to judge themselves and pick the top 3 winners. The results, as voted on by the skaters in the contest are as follows:
Final Results
1st Cody Chapman
2nd Chris Russell
3rd Kevin Kowalski
4th John Gardner
Best Trick
Pool
John Gardner – Boneless into the pool
Chris Gregson – Frontside kickflip over the ladder
Roof
Jack Fardell – Nose manual
Alex Sorgente – Backside flip
Keyhole
Josh Borden – Nosegrind
Ben Hatchell – Half Cab Front blunt