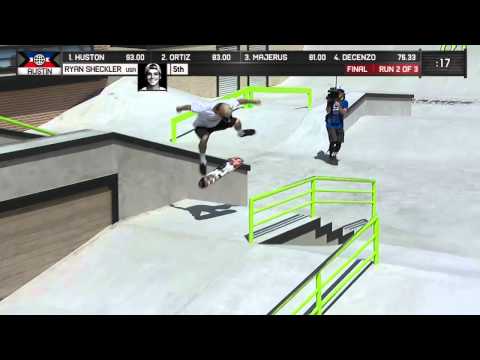 The sophomore year of X Games Austin is a wrap and the skateboarding events delivered many highlights despite the relentless early summer heat. Drop by The Boardr and CA Productions sites for more info along with photos and video clips from the past three days.
Skate Street
1. Nyjah Huston
2. Chaz Ortiz
3. Ryan Sheckler
Skate Vert
1. Pierre Luc Gagnon
2. Paul Luc Ronchetti
3. Sam Beckett
Big Air
1. Bob Burnquist
2. Elliot Sloan
3. Tom Schaar
Skate Park
1. Curren Caples
2. Pedro Barros
3. Ronnie Sandoval
Big Air Doubles
1. Bob Burnquist / Morgan Wade
2. Elliot Sloan / Steve McCann
3. Tom Schaar / Zack Warden
Womens Skate Street
1. Alexis Sablone
2. Pamela Rose
3. Vanessa Torres
Skate Street Ams
1. Tyson Bowerbank
2. Alex Midler
3. Dustin Blauvelt
Head over to the X Games site for complete results.