Nyjah Huston

XGames.com digs into the archives to check out 7-time X Games gold medalist Nyjah Huston's progression throughout the years.
Stop #2 of the 2015 Street League Tour takes place in Newark, New Jersey this afternoon. Tune in to watch all 25 SLS pros vie for the 8 cut towards the Super Crown Championship live tomorrow on Fox Sports 1, Fox Sports Go, and streetleague.com at 4:30pm ET.
The AYC crew visited Costa Rica in issue #137 of The Skateboard Mag. Nyjah Huston, Stevie Williams, Riley Hawk, Aaron "Jaws" Homoki and Derrick Wilson put a new spin on tropical vacations.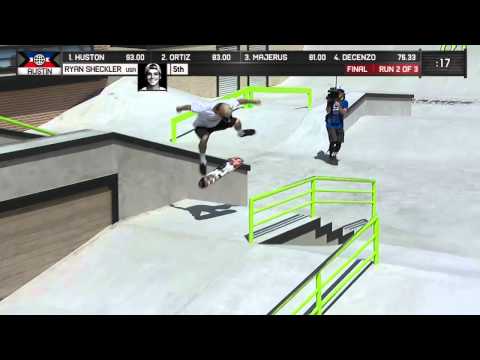 The sophomore year of X Games Austin is a wrap and the skateboarding events delivered many highlights despite the relentless early summer heat. Drop by The Boardr and CA Productions sites for more info along with photos and video clips from the past three days.
Skate Street
1. Nyjah Huston
2. Chaz Ortiz
3. Ryan Sheckler
Skate Vert
1. Pierre Luc Gagnon
2. Paul Luc Ronchetti
3. Sam Beckett
Big Air
1. Bob Burnquist
2. Elliot Sloan
3. Tom Schaar
Skate Park
1. Curren Caples
2. Pedro Barros
3. Ronnie Sandoval
Big Air Doubles
1. Bob Burnquist / Morgan Wade
2. Elliot Sloan / Steve McCann
3. Tom Schaar / Zack Warden
Womens Skate Street
1. Alexis Sablone
2. Pamela Rose
3. Vanessa Torres
Skate Street Ams
1. Tyson Bowerbank
2. Alex Midler
3. Dustin Blauvelt
Head over to the X Games site for complete results.
At the close of the Nike SB Pro Open Finals, it all came down to last tricks for Nyjah Huston and Paul Rodriguez for first and second place. New SLS Pro recruit, Evan Smith seized third place with an impressive outing in Barcelona. Drop by the Street League site for complete recaps on the action.
Final Results
Nyjah Huston 34.2
Paul Rodriguez 33.8
Evan Smith 32.4
Chaz Ortiz 32.3
Tom Asta 31.7
Manny Santiago 31.6
Shane O'Neill 30.5
Chris Cole 28.1