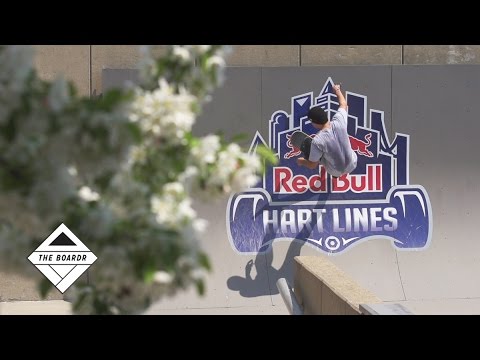 The wonder kid Curren Caples claimed the top of the podium out in the Motor City over the weekend by nailing some solid runs accented by speed and style at Red Bull Hart Lines.
Conceptualized by Ryan Sheckler, Hart Lines is a newly developed street skateboarding competition featuring an all-new contest format featuring two lines with its own unique set of skateable elements. The course at Hart Plaza incorporated a mix of existing rails, ledges, and stairs with additional features built by CA Rampworks. Each skater had three runs on the course, one on each of the two designated "lines," and a third on the line of their choice.
Curren's gap to frontside nose grind put him in high numbers and the chase was on from there on out. $35k and a bitchin' new American made car was all his for the taking when the event clock had reached its end. Congrats Curren!
Final Results
1. Curren Caples 89.17 -1 88.17
2. Torey Pudwill 83.33 -7 76.33
3. Ryan Sheckler 79.17 -4 75.17
4. Chris Cole 77.67 -3 74.67
5. Evan Smith 78.33 -5 73.33
6. Alec Majerus 72.17 -6 66.17*
7. Ryan Decenzo 68.17 -2 66.17*
8. Youness Amrani 66.00 -8 58.00
*Tiebreaker was decided by best second run score
In addition to the payouts for the Top 8 competitors, Ryan Sheckler handed out $2,000 for the "Sheckler's Got Hart" award to Leo Romero for the skater he deemed that showed the most heart throughout the competition. Romero won the award because despite taking a few nasty falls on qualifier day, he managed to complete every run without holding back on the difficulty of his tricks. Felipe Gustavo also received $2,000 for landing the best switch trick of the event as part of the "Make The Switch" award powered by Pennzoil. Gustavo landed a switch frontside flip over the 10-stair rail to earn the added money.
The boys at the Boardr ran a solid show in Detroit and have a recap for you with captioned photos and more.
Red Bull Hart Lines airs as part of the Red Bull Signature Series on NBC Saturday, August 1st at 4:30pm EST/1:30pm PST.