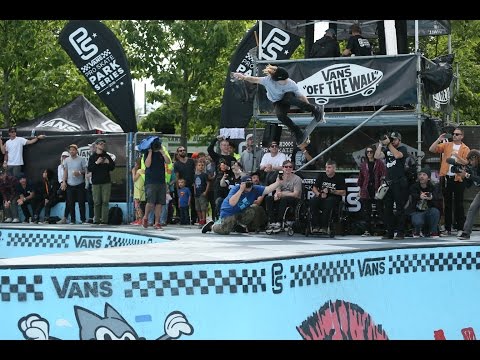 A powerful trio of teenagers swept the podium at the third stop of the Vans Park Series Global Qualifiers in Vancouver, BC this past Saturday. Italy's Ivan Federico stuck to his lines and consistency to nail down first place and moves into the lead for the Vans Park Series Global Challenger rankings. France's Robin Bolian claimed his first visit to the VPS podium landing in second place and Cory Juneau edged out Chris Russell for the third place spot.
Vancouver Qualifier Celebrates International Podium with Winners from Italy, France and USA

Vans Park Series Global Qualifier
Vancouver Results
1st – Ivan Federico
2nd – Robin Bolian
3rd – Cory Juneau
4th – Chris Russell
5th – Alex Sorgente
6th – Willy Lara
7th – Kevin Kowalski
8th – Oskar Rozenberg Hallberg
Vans Park Series Global Challenger Rankings
1st – Ivan Federico
2nd – Cory Juneau
3rd – Alex Sorgente
4th – Robin Bolian
5th – Tom Schaar
The top five challengers to emerge from the Mens Park Series Global Qualifier system will challenge the fifteen exclusive Park Series Select Pros in Malmö, Sweden for the inaugural International Skateboard Federation-sanctioned park terrain Vans Park Series World Championships.
Drop by the Vans Park Series site for the latest updates, contest schedules, and rider profiles. Follow the action on Instagram, Facebook and Snapchat at @vansparkseries.