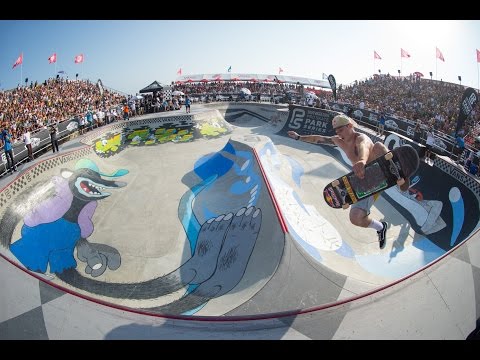 The Vans Pro Skate Park Series in Huntington Beach wrapped up its final stop of Global Qualifiers for dozens of hungry competitors. On Friday more than a hundred skaters battled it out for just nine spots available to the semi-finals in in one built-to-spec custom designed park course for the chance to earn their spot to the World Championships in Malmö, Sweden later this month.
Park Series Select Pro Chris Russell nailed down a first place run in Huntington Beach on Saturday to claim his second Vans Park Series Global Qualifier win of the season. But Ben Hatchell surely gave him a run for his money with an assortment of heavy stunts with technical control. Sweden's Oskar Rozenberg Hallberg took home third place with speed, style and great combined use of the entire park.
Italy's Ivan Federico didn't advance into Saturday's Final, but now sits atop of the Global Challenger rankings where seven additional rippers from around the world will join him and the Vans Park Series Select Pros in Malmö.
Visit www.vansparkseries.com for the latest updates and follow the action on Instagram, Facebook and Snapchat at @vansparkseries.
Final Results
1st Chris Russell
2nd Ben Hatchell
3rd Oskar Rozenberg Hallberg
4th Tom Schaar
5th Tristan Rennie
6th Murillo Peres
7th Curren Caples
8th Ronnie Sandoval
Vans Park Series Global Challengers – Advancing to World Championships
1st Ivan Federico
2nd Cory Juneau
3rd Tom Schaar
4th Alex Sorgente
5th Tristan Rennie
6th Robin Bolian
7th Collin Graham
8th Vinicius Kakinho