Cody Lockwood
Cody Lockwood dishes out five heavy hits for Red Bull Skateboarding's 5 For 5 edit. Have a look!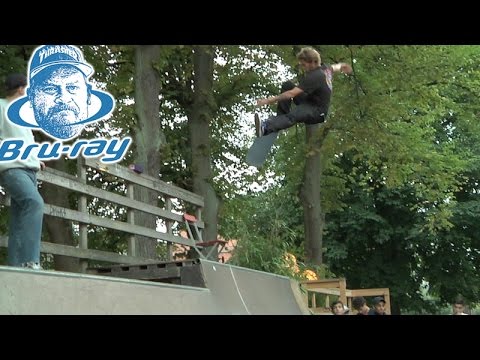 Mark "Red" Scott Red not only put in his time to help build the Hyllie park in Malmö, but he also managed to slay some other spots around town with young guns Greyson Fletcher, Kevin Kowalski, Chris Russell and others. Check this edit by P-Stone showing the good times during the week at the Vans Park Series Championships in Malmo.
It has been over 20 years since construction crews walked away from The Aspotogan Sea Spa Resort a multi-million dollar resort project on the coast of Nova Scotia, Canada, never to return. Half completed, the building sat empty and abandoned in the wild wilderness of the maritime coast…until now.
Ryan Decenzo, TJ Rogers, Joey Brezinski, Cody Lockwood and a crew of some of the best skaters in North America convened on this neglected piece of prime real estate in early September on an ambitious mission to bring new life to the forgotten resort by transforming it into the ultimate skate retreat. With no limits and a little help from their friends – legendary park builders the Zenga Brothers and director Alex Craig – the crew worked tirelessly to create a skate park unlike any other by building custom features using materials found around the resort, spanning across three floors and 175,000 square feet of smooth concrete.
From the darkest, shadowy depths of the building's idle interior to blazing sunsets over a custom-built concrete bowl and the resort's uncertain future, this was a once-in-a-lifetime trip.
Left for dead, a crew of skaters including Ryan Decenzo, Joey Brezinski, Cody Lockwood, Nate Lacoste, Nick Moore and Cam Schuster opted to revive an abandoned multi million dollar resort on the rugged coast of Canada's eastern seaboard.
Director Alex Craig took over the resort site for 7 days in early September working with renowned park builders the Zenga Bros to bring a truly unique vision of the hotel to life. Circle back here on December 4th for the full-length release.

The latest edition of "Pooling Around" from The Skateboard Mag is stacked with some heavy hitters. Ronnie Sandoval, Lance Mountain, Peter Hewitt, Cody Lockwood, Al Partanen, Willy Lara, and more get straight to the point and tear through a fresh batch of Fresno pools.