Chase Webb
DC Shoes welcomes John Shanahan, Alexis Ramirez, and Chase Webb to the team with this sick edit for Thrasher Magazine.
This is the third year that Red Bull and Ryan Sheckler teamed up to bring the Red Bull Hart Lines competition back to downtown Detroit, MI to Hart Plaza for a weekend packed with rad skating and good vibes all around. This year, Red Bull invited us to come check out the event and agreed to put us up for the weekend, so we were stoked to head to the Motor City to watch some fine skateboarding and experience Detroit's unique landscape and eclectic inhabitants.
The format of the contest is pretty rad. Each skater begins at the top of the course, hits several obstacles going downhill (and pretty damn fast at that), before finally making their way down to the bottom of the course to the impact section (which, of course, requires jumping). Basically, amount of tricks landed, trick difficulty, and speed all factored into each skater's final score. Each skater's overall time was ranked and was issued a point deduction for their ranking. So, even if a skater's run was scored first place for trick difficulty and overall impression, they could end up in 7th place after the end of a jam if their speed was not up to par. This definitely made for an interesting format and some surprising results in the end.
In the end, Nyjah Huston knew what he had to do. He won last year's event, so he was no stranger to the format and what it took to come out on top. It was pretty clear when you'd see Nyjah Huston on the jumbo-tron landing 8 tricks before most dudes (and dudettes) were landing 4 tricks, that he had it locked it. However, if it were all based on speed, this thing would've gone to Chase Webb, hands down. On top of that, hee was pretty much the only one that did more than an axle stall on the quarter pipe in the corner wall; utilizing it for monster frontside wall bashes at top speed before making his way to the impact section. Other standouts include Tommy Fynn, Ryan Decenzo, and Alec Majerus, to name a few. Their super-human skateboarding abilities sure are enjoyable to witness in person.
Shout out to everyone that skated and thanks to Red Bull for taking care of us and for the awesome weekend in Detroit. Check out the results and photos from the event below:
Results
1. Nyjah Huston

2. Alec Majerus

3. Kelvin Hoefler

4. Ryan Decenzo

5. Chase Webb

6. Ryan Sheckler

7. Tommy Fynn

8. Felipe Gustavo

9. Axel Cruysberghs

10. Paul Hart
All content by Mike Chinner
The Pizza boys deliver fresh pies in the form of bangers all across the city of Barcelona in this clip from Thrasher Magazine. Puluzzi, Webb, & co. bring out the stuffed crust, extra cheese, and even the anchovies. Prepare to be stoked.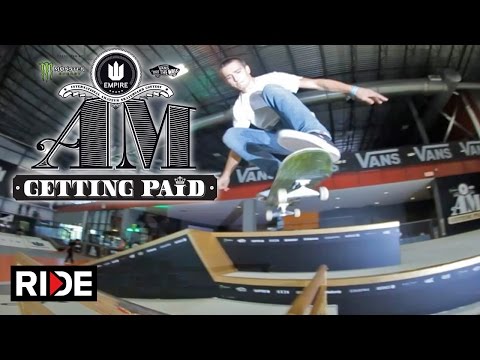 The first day of the Am Getting Paid kicked off Friday in Montreal and RIDE Channel has posted this highlight package from yesterday's qualifiers. Check out the list of skaters who made the cut here.