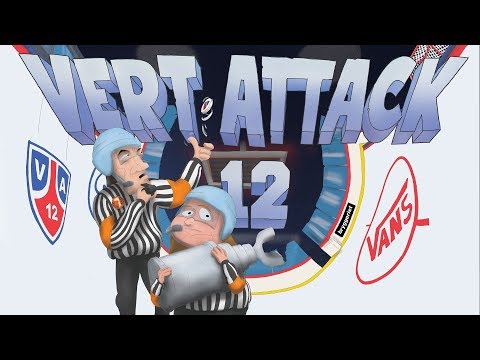 The long dark days of winter can seem like an eternity – especially when living higher up on the planet in Scandinavia. However, the annual Vert Attack gathering in Malmö, Sweden is one that keeps the fire burning hot towards summer. Top ams, women, and pros worldwide travel and gather to have a blast with each other on a classic 80s throwback halfpipe and along with plenty of entertainment tossed in as well. John Magnusson and the crew at Brygerriet have carried and seen it through for the past twelve years with awesome sponsors and good times and a solid webcast that keeps us entertained continents away. Hats off and high fives all around!
After a hiatus of a few years, vert vet Bucky Lasek returned to Vert Attack last week, completely nailed his first run in the finals and took home first place in the Pro/Am showdown. Buck yes!
Scrub through the archived webcast above and have a look at the list of results below.
Vert Attack Final Results
Pro/Am
1. Bucky Lasek
2. Ronny Gomes
3. Sam Beckett
4. Edouard "Frenchi" Damestoy
5. Augusto "Japhina" Santos
6. Pierre Luc Ronchetti
7. Clay Kreiner
8. Sandro Dias
Veterans
1. Hans "Puttis" Jacobsson
2. Paul Atkins
3. Tony Jansson
4. Gerd Reiger
5. Patric Backlund
5. Fredrik Attebrant
Masters
1. Andy Macdonald
2. Neal Hendricks
3. Jocke Olsson
4. John Magnusson
5. Thomas Kring
6. Thomas Madsen
7. Dave Allen
Ladies
1. Nicole Hause
2. Arianna Carmona
3. Allysha Le
4. Lilly Stoephasius
5. Bia Sadre
6. Leticia Goncalves
7. Silvia Rula
Juniors
1. Luigi Cini
2. Toby Ryan
3. Gavin Bottger