Bucky Lasek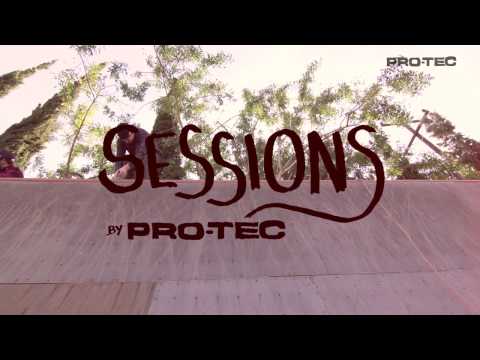 The Pro-Tec team invades Josh Borden's backyard with a solid skate session.
2017's Bowl-A-Rama is just hours away and again this year, it will be broadcasted live and direct from Bondi Beach, Australia beginning today. Be sure to check out the schedule of events and tune into the webcast right here.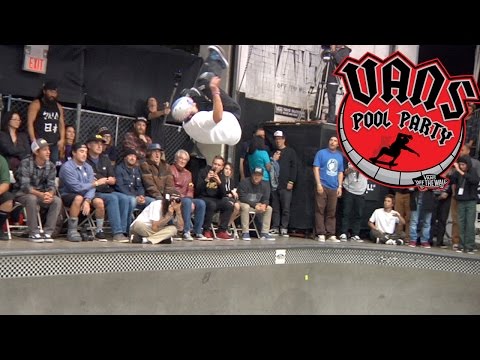 Press Release: True legends never die! In an unforgettable comeback performance, original Bones Brigade member and certified legend Lance Mountain fueled the ultimate shakeup as he earned his first championship win at the 12th annual Vans Pool Party earlier today. Edging out podium veteran Steve Caballero, who placed in 2nd, and unseating nine-time Pool Party title-holder Chris Miller, who finished in third, Mountain powered through his runs combining his timeless style with an incredible mixed bag of tricks to win the title.
Underlining an epic journey of Combi Pool domination, the unstoppable Pedro Barros demonstrated another breathtaking feat of talent, blasting through huge airs in lightning fast runs to win his third Pool Party championship title to date. Rising star and pool ripper Cory Juneau sneaks in second with a game-changing final run, while Bucky Lasek utilized a clean, technical approach to secure third. Finally, closing out the Masters division, Darren Navarette took flight and put together a flawless run in classic Navs style, ousting last year's winner Bruno Passos.
In the chance that you missed the action, check the archived Vans Pool Party webcast right here.
Final Results
Pros
1st Pedro Barros
2nd Cory Juneau
3rd Bucky Lasek
Legends
1st Lance Mountain
2nd Steve Caballero
3rd Chris Miller
Masters
1st Darren Navarette
2nd Bruno Passos
3rd Jed Fuller
Dodging a wet weather forecast, both Tony Hawk and Bucky Lasek skated tough to defend their Bowl-A-Rama titles this weekend in Bondi Beach. Roll the highlight reel. Be sure to check back with the Bowl-A-Rama site for the soon-to-come replay of the live webcast.
Final Results
Pros
1. Bucky Lasek $16,000
2. Cory Juneau $9000
3. Tom Schaar $5000
4. Alex Sorgente $3000
5. Joshua Rodriguez $2500
6. Ivan Federico $2000
7. Trey Wood $1750
8. Pedro Barros $1500
9. Vi Kakinho $1000
10. Kevin Kowalski $1000
11. Chris Russell $1000
12. Danny Leon $1000
13. Rune Glifberg $1000
14. Jonathan Schwan $1000
15. Luke Russell $1000
16. Daniel Cuervo $1000
17. Brad McClain $1000
Masters
1. Tony Hawk
2. Pat Ngoho
3. Renton Millar
Juniors
1. Ryan Helm
2. Jedd McKenzie
3. Ethan Copeland
After a brief rain delay earlier in the morning, 2015's Bowl-A-Rama had no problem heating up and entertaining both those in attendance in Bondi Beach, Australia and on their computers or mobile devices around the planet. The Masters' set the tone and the raised the bar quite high with Chris Miller's welcomed first appearance at the Bowl-A-Rama event. Ultimately, Tony Hawk proved once again in the finals that he is the Jedi to beat as he took home the repeat victory.
Early on in the Pro Finals Team Padless Ambassador, Chris Russell set the place on fire as he continued to rip with gnarly lines and edge of the seat stunts. Unfortunately, he took a heavy fall and hit is head which resulted in some fresh stitches to take back home to the US. He'll be fine otherwise. Bucky (now in his forties) poured on the juice and switched it up, backed it up, and held off the teenagers and others younger than him from taking away his rightful win. All in all, the level of skating stepped up once again, the webcast crew with Corbin Harris and Neal Hendrix kept it entertaining, and Bowl-A-Rama 2015 was a great event!
Final Results
Pros
1. Bucky Lasek
2. Pedro Barros
3. Alex Sorgente
4. Cory Juneau
5. Rune Glifberg
6. Josh Rodriguez
7. Vi Kakinho
8. Chris Russell
Masters
1. Tony Hawk
2. Chris Miller
3. Steve Caballero
4. Bruno Passos
5. Nicky Guerrero
6. Kevin Staab
7. Eddie Elguera
8. Sean Goff
Best Trick – Ben Hatchell