Bob Burnquist

The Skateboard Mag presents this raw footage from a recent destruction session on Bob Burnquist's home turf.

Thrasher Mag has just posted an amazing edit of next level vert action from Mancha's ramp featuring Sam Beckett, PLG, Jimmy Wilkins, Ronnie Sandoval, Josh Stafford, Giorgio Zattoni, Bob Burnquist and Evandro Menezes.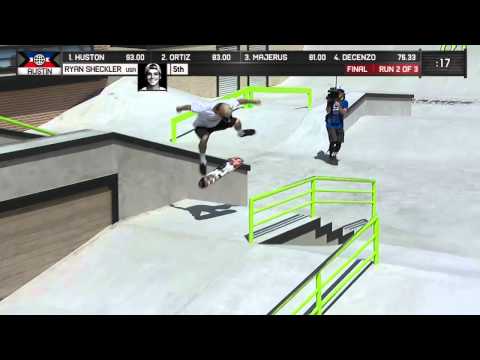 The sophomore year of X Games Austin is a wrap and the skateboarding events delivered many highlights despite the relentless early summer heat. Drop by The Boardr and CA Productions sites for more info along with photos and video clips from the past three days.
Skate Street
1. Nyjah Huston
2. Chaz Ortiz
3. Ryan Sheckler
Skate Vert
1. Pierre Luc Gagnon
2. Paul Luc Ronchetti
3. Sam Beckett
Big Air
1. Bob Burnquist
2. Elliot Sloan
3. Tom Schaar
Skate Park
1. Curren Caples
2. Pedro Barros
3. Ronnie Sandoval
Big Air Doubles
1. Bob Burnquist / Morgan Wade
2. Elliot Sloan / Steve McCann
3. Tom Schaar / Zack Warden
Womens Skate Street
1. Alexis Sablone
2. Pamela Rose
3. Vanessa Torres
Skate Street Ams
1. Tyson Bowerbank
2. Alex Midler
3. Dustin Blauvelt
Head over to the X Games site for complete results.
Well, that was one hell of a great skateboarding event we just experienced! In case you were still asleep, Vert Attack 9 entertained everyone in attendance at Malmö's Bryggeriet Skatepark and around the planet via live webcast. The past 5 hours have truly shown that vert skating is alive and well and the next generation of vertically inclined rippers is progressing very quickly.
In the heated Pro/Am Final, England's Sam Beckett powered through the intensity and usurped the field of competitors to win it big time. Cheers Sam! Tony Hawk, Alana Smith and Evan Doherty each won their respective finals as well. Check the results below. Thank you skateboarding!
Final Results
Pro/Am
1. Sam Beckett
2. Bob Burnquist
3. Paul Luc Ronchetti
4. Jimmy Wilkins
5. Rune Glifberg
6. Corey Juneau
7. Rony Gomes
8. Chris Russell
Masters (40 and above)
1. Tony Hawk
2. Neal Hendrix
3. Mike Frazier
4. Nicky Guerrero
5. John Magnusson
6. Jocke Olsson
7. Lincoln Ueda
8. Matthias Sernklo
Girls
1. Alana Smith
2. Lizzy Armanto
3. Alicia Bergado
4. Julz Lynn
5. Brighton Zeuner
6. Gabi Ponce
7. Mimi Knoop
8. Valeria Bertaccini
Juniors (17 and under)
1. Evan Doherty
2. Matty Carlisle
3. Tate Carew
4. Alessandro Mazzara
5. Mats Hatlem
6. Tyler Edtmetyer
7. Kalle Berglind
Yesterday's Vert Semi-Final kicked off the Dew Tour's fourth year on the beachfront of Ocean City, Maryland and the number one qualifying spot was earned by Bob Burnquist followed by his Brazilian countryman, Sandro Dias. More action continues near the boardwalk today with the and Semi-Final Bowl events.
Tune in to the livestream feed this afternoon and check the full schedule right here.
Friday, June 27th
Skate Street Session 4pm-5pm ET
Skate Bowl Semi-Final 5pm-8pm ET
Saturday, June 28th
Skate Vert Final 5pm-7pm ET
Sunday, June 29th
Skate Bowl Final 2pm-4pm ET

Vert Semi-Final Results
1. Bob Burnquist
2. Sandro Dias
3. Jimmy Wilkins
4. Pierre Luc Gagnon
5. Elliot Sloan
6. Bucky Lasek
7. Andy Macdonald
8. Paul Luc Ronchetti