Ben Raybourn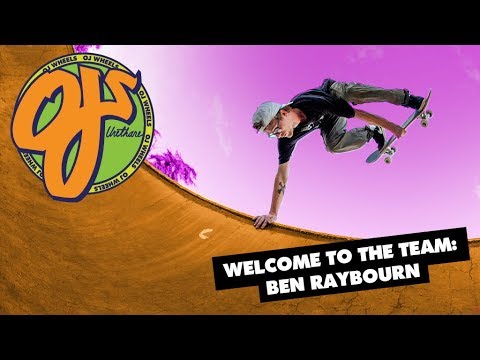 Ben Raybourn has been welcomed over to the OJ Wheels team with this barrage of sick footage.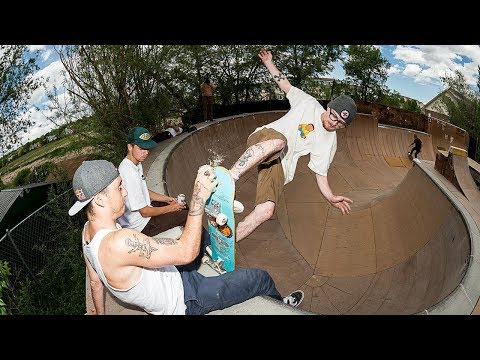 Independent Truck Co. hit the road with several of its team riders for a tour which canvassed the many diverse parks and backyards of Colorado. Chris Russell, Kevin Kowalski, Cody Chapman, Willis Kimbel, Lance Mountain, Ben Raybourn, Peter Hewitt, Chris Haslam, and Tony Trujillo. Sit back and watch the annihilation unfold!
Bones Wheels riders, Chris Russell, Cody Lockwood, Kevin Kowalski, Ben Raybourn, Alan Young, and Jimmy Wilkins pay tribute to 30 Years of Animal Chin on the Chin Ramp in this video piece. Original Bones Brigaders, Tony Hawk, Steve Caballero, Mike McGill, with special guest Lance Mountain also team up in this acknowledgment of skate history.
Tony Hawk is bringing the 80s back to Kennesaw Skatepark. At least skateboarding's version of that notorious decade. And he's not coming alone.
Hawk and friends have organized the Get Rad For Ray presented by Kennesaw Skateshop charity event to celebrate the life and legacy of one of skateboarding's all-time greats, Ray Underhill. A Wilmington, North Carolina native, Underhill was a member of the infamous Bones Brigade squad of the 1980s, a teammate of Hawk's, and known for his smooth skating style. But his friends remember him best for his kindness, wit, and dedication—his true enduring legacies.
"Ray was a great friend," said Hawk. "We miss him every day, so we're coming to Kennesaw to remember him the best way we know—to skate in his honor while helping others!"
The world lost Ray in 2008, after his long battle with Chordoma, a rare but relentless spinal cancer. To honor his life, Ray's family and friends have joined the City Of Kennesaw, Georgia and Kennesaw Skatehop to host the Get Rad For Ray skateboarding contest and 80s-themed Legends jam session at the Kennesaw Skatepark in Swift-Cantrell Park. This will be a free public event to celebrate Ray with an amazing display of local and legendary skate talent, and to raise funds for the Ray Underhill Foundation, which supports families affected by Chordoma.
Get Rad For Ray presented by Kennesaw Skateshop is a family-style event that will feature a festival area with food and vendors, as well as three different skateboarding events. A free beginners' skate clinic hosted by Kennesaw Skate Shop will start the celebration and get kids new to the Swift-Cantrell Skatepark off to a solid and safe start. An amateur contest will give local talent the opportunity to shine and impress. And the day will conclude with an 80s-themed Legends skate jam, featuring top new talent mixing it up with some of the most famous names in skateboarding—Tony Hawk, Mike McGill, Aaron "Jaws" Homoki, Kevin Staab, Ben Raybourn, Brighton Zeuner, Lester Kasai, Brad McClain, and Lizzie Armanto among them.
"This is an incredible collection of skate talent," said Hawk. "Top names from the 80s, and today—all skating together in one event. If I weren't joining them in the session, I'd definitely want to be there to see it!"
Attendees will have several opportunities to support the Ray Underhill Foundation via donations and raffles throughout the day.
For more info on this great event drop by the Get Rad For Ray page on The Tony Hawk Foundation site.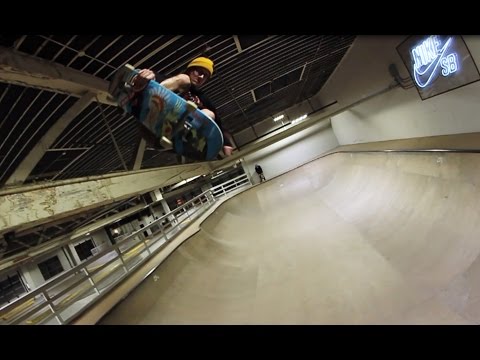 Back flips, ape hangers, and using a coffee table as a vert extension! These are all things you will see in this video of Raybourn and friends having a blast while simultaneously destroying the Nike SB skate park in Portland, OR. There are very few things better than having an epic skate park to yourself all night with a couple of good friends. Let the good times roll!