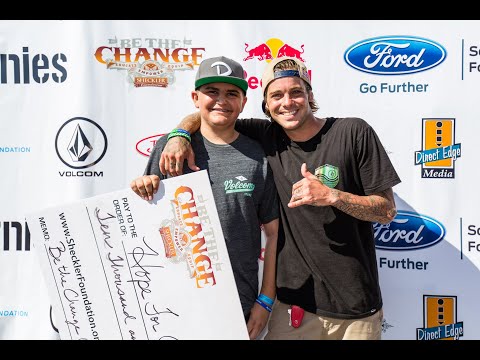 Last Saturday, more than two thousand supporters joined The Sheckler Foundation, its sponsors and skateboarders for Skate For A Cause at the etnies Skatepark of Lake Forest. The event raised enough money to fund eight more "Be the Change" grants to help kids in need and injured action sports athletes. The Sheckler Foundation's latest "Be the Change" recipient, Carter was the guest of honor throughout the day, where he received a check for $10,000, recognition and gifts from former "Be the Change" recipients, The Ashley Wade Foundation and Peach's Neet Feet. View the video above to witness the highlights of all the skateboarding that went down.
The event kicked off at 10:00 a.m. as people swarmed to sign in and participate in the event's festivities. Before the skateboarding contests kicked-off, we were blessed to host a demo by WCMX (Wheel Chair Moto Cross) and Adaptive Action Sports athletes who put on an incredible show! Professional skateboarders ranging from Fabrizio Santos, Kevin Romar, Greg Lutzka, Manny Santiago, Ryan Decenzo, Matt Berger, Sean Sheffey, Eddie Elguera, Eddie Reatretegui and Tom Schaar joined the amateur skateboarders like Chris Joslin, David Reyes and Alex Midler among dozens of others to compete against and rally for each other.
The Sheckler Foundation would like to give a warm thank you to all of its supporters – from the skateboarders and sponsors and to all the individuals who came out and showed their support at the 6th Annual Skate for a Cause.
For additional details and information on the event and the Sheckler Foundation, please visit: shecklerfoundation.org Facebook: facebook.com/shecklerfoundation Twitter and Instagram: @SheckFoundation