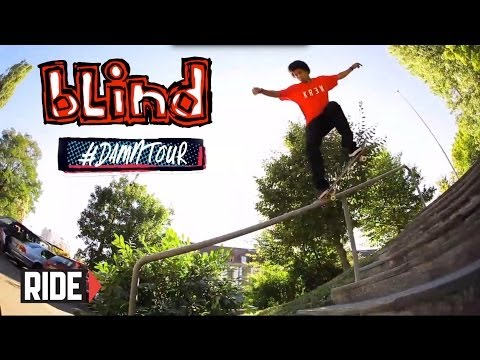 Blind Skateboards brings you some exclusive footage of their European tour.

Skateistan uses skateboarding as a tool for empowering youth and to create new opportunities and the potential for change in Afghanistan and Cambodia.
A portion of the proceeds from the Skateistan X Spitfire wheel will go to help keep Skateistan rolling. For more info and ways to help visit skateistan.org

Winter has arrived. That is, Sammy is now pro with a new signature shred sled on Cliché and this awesome short film highlighting his skills.

The grand prize winner of King Shit Mag's Connect The Dots goes to the short film BAD KIDS, BAD TRICKS by Nick Genova featuring Paul Liliani, Chris Wardle, and Willy Lavigne with photos by James Morley. Drop by the Connect the Dots 2013 page to see the other runners up videos as well.
It's now too late for the city of Carlsbad, California to come correct on saving its first-ever constructed skateboard park, but thankfully, Tampa, Florida's Bro Bowl has been officially placed upon on the National Register of Historic Places this week. Dig in and read this Tampa Bay Times article for a bit of insight on the heritage and fortunate fate of this renowned skate zone.