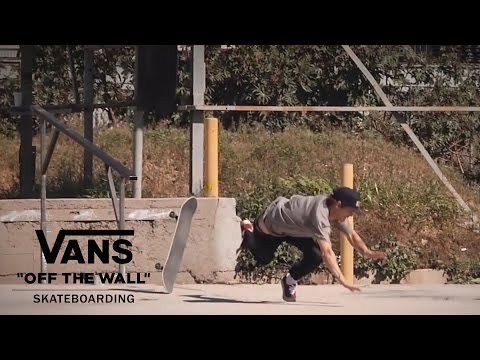 Vans has announced the official debut of the Geoff Rowley Signature Collection, hitting shelves worldwide this fall. With Vans since 1999, pro skateboarder Geoff Rowley is influential in modern street skating for pioneering big technical tricks and a go-for-broke style, a true legend whose impact on the culture endures. Not surprisingly, Geoff demands the same qualities of style and durability from his gear.
Vans' signature footwear and introductory apparel collection designed by Geoff Rowley launches globally beginning June 13, equipped with superior performance innovation in Vans' DURACAP footwear reinforcements and STURDY STRETCH chino pants to combine legendary durability with timeless style.
Purpose-built for skateboarding in construction and design, Vans' signature Geoff Rowley Collection reflects Geoff's energetic lifestyle by infusing workwear and military-spec detailing to emphasize classic functional styling. Inspired by the original Vans Era, one of the first shoe models ever built by skateboarders for skateboarding, the all-new Vans [ROWLEY] SOLOS transform the legendary Vans silhouette to create a revolutionary model that performs even better, featuring Vans' DURACAP reinforced natural canvas textiles and premium suede uppers with Vans' ULTRACUSH HD high-impact polyurethane cushioning, all grounded on Vans' ORIGINAL WAFFLE outsole. The [ROWLEY] SOLOS launch in-stores worldwide this Saturday, June 13.
Vans [ROWLEY] SOLOS are complimented by the forthcoming debut of Geoff's first Vans apparel collection this July, which includes Vans' STURDY STRETCH twill GR chinos, a cotton canvas GR workwear shirt and shirt jacket, a 6-panel cotton snapback cap with a woven GR patch applique and four GR tees armed with Vans Wicked Dry for reliable moisture-wicking comfort.
The Vans Geoff Rowley signature footwear and apparel collection launches worldwide this fall. Visit Vans.com/Rowley to find the nearest authorized Vans Pro Skate dealer and to learn more about the performance features built in Geoff Rowley's signature Vans collection.