A new company, Løvesick Skateboards, has just released its first limited-edition "Liberty?' deck. Only 100 were made and all profits will be donated to the ACLU.
Grab one now at LovesickSkateboards.com and support a good cause.
In celebration of Foundation's latest full length, "Oddity", Thrasher Magazine has cooked up this awesome Foundation Family Tree graphic so you can brush up on your Foundation history and see the entire cast from each full length video from FOSKCO; complete with some side notes and fun facts. Educate yo' self!
Parts from the video have been dropping all week on the Thrasher Site, sit back and enjoy the madness.
(Click For Full Size)
Bones Wheels riders, Chris Russell, Cody Lockwood, Kevin Kowalski, Ben Raybourn, Alan Young, and Jimmy Wilkins pay tribute to 30 Years of Animal Chin on the Chin Ramp in this video piece. Original Bones Brigaders, Tony Hawk, Steve Caballero, Mike McGill, with special guest Lance Mountain also team up in this acknowledgment of skate history.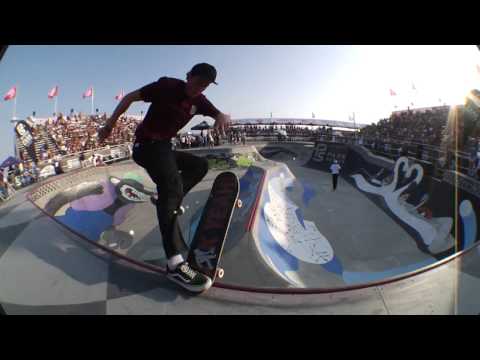 The Vans Park Series returns in 2017 with five qualifier stops in Australia, Brazil, Sweden, Canada, and the USA, followed by the World Championship in Chicago, IL.
Get the full schedule and watch every stop LIVE right here.
2017 VPS Men's Select Pros
Alex Sorgente
Ben Hatchell
Chriss Russell
Cory Juneau
Current Caples
Grant Taylor
Greyson Fletcher
Ishod Wair
Ivan Federico
Jack Fardell
Kevin Kowalski
Oskar Rozenberg Hallberg
Pedro Barros
Raven Tershy
Ronnie Sandoval
2017 VPS Men's Pro Tour Challengers
Ben Raybourn
CJ Collins
Cody Lockwood
Collin Graham
Josh Borden
Kalle Berglind
Keegan Palmer
Murilo Peres
Patrick Ryan
Robin Bolian
Roman Pabich
Tom Schaar
Tony Trujillo
Trey Wood
Tristan Rennie
Vinicius Kakinho
Willy Lara
Zion Wright
2017 VPS Women's Select Pros
Brighton Zeuner
Jordyn Barratt
Kisa Nakamura
The newest release for Spring 2017 from Thunder Trucks is now hitting skate shops worldwide. Check out the new Pro Trucks from Miles Silvas, Ishod Wair and Marc Johnson, along with the Nightliners Series, Aftershook Team Editions and the Team Hollow Lights.