Tom Gorelik has released some raw footage of Ron Deily, filmed in New York, San Francisco and Barcelona.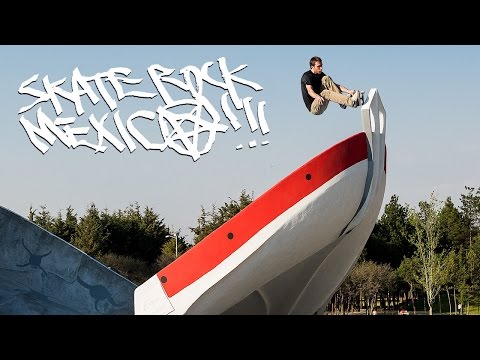 The Skate Rock crew kicks off their South of The Border romp by skating some of the craziest concrete creations on the planet. Check out the action on some of the wildest skate terrain right here right now!
Day 2 of Tampa Pro 2017 went off with the Pro Street Qualifiers; seeing ripping from Matt Berger, Chris Cole, Torey Pudwill, Ishod Wair, Nyjah Huston and more. Brazillian pop master Tiago Lemos and Aussie ripper Tommy Fynn put it down all day, qualifying first and second respectively, sending them directly to the finals the following day.
The Converse CONS Concrete Jam followed and carnage was brought forth from Charlie Blair, Cody Lockwood, Tom Remillard and more. After the concrete jam, Jenkem hosted a Best Trick Jam on their plexi glass party shack extension obstacle, complete with strobe lights, a fog machine, and ladies shaking their rear ends. It was a spectacle, alright. Cody Lockwood came through with a noseblunt both frontside and backside on the extension, earning himself a win in both the Jenkem Best Trick Contest AND the Converse Concrete Jam. Yeah, Cody! Stay tuned for a full video recap from the concrete jam.
Click the image of Chris Cole above to head to our facebook page to see the full photo album from day 2 of Tampa Pro.
"Location" is a new edit from our friends at Home Grwn Media in South Africa, showcasing the up and coming skate scenes from Johannesburg to Durban. Most of these SA spots are an 11 on the crust-ometer and the locals handle them with ease on the regular. Watch the edit now via Ride Channel.
For more South African skateboarding, check out the latest issue of Session Skateboarding Magazine, live now for free on their site.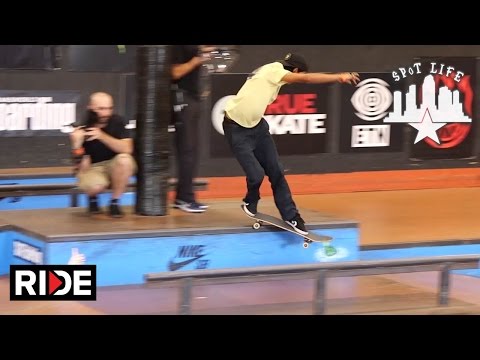 Louie Lopez nailed the win at Tampa Pro and took home $20,000 yesterday. He also earned a spot in the 2017 SLS Super Crown. Head over to SPoTTampa.com for more photos, video clips and complete results from the weekend.
Final Results
1. Louie Lopez
2. Luan Oliveira
3. Kelvin Hoefler
Pushing through a rather blustery and damp string of days in Australia's Manly Beach, the first stop of 2017's Vans Park Series Tour was able to persevere through the multiple rain delays and pull off several action-packed and exciting rounds of competition with a field of the world's top bowlriders, up-and-comers and all terrain enabled skateboarders.
Thursday's Women's Oceania Continental Championships Poppy Star Olsen stuck to her runs and guns with inverts, airs, smith grinds and an overall consistency to take home a win and earn her official entry to the ISF Sanctioned Vans Park Series Championships in Chicago. Congrats to all of the ladies that showed up to shred this skatepark on the sand!
Friday's VPS Qualifiers continued with the theme of intermittent showers and although there were four separate rain delays through out the afternoon, the practices and skating rounds went the full distance with VPS Challenger Tom Schaar qualifying in the top position.
Saturday delivered over four hours of incessant coastal drizzle. But thankfully, a dry spell blessed the region for a couple of hours and all hands on deck quickly put the squeegees and blowers to use in order to dry the California Skateparks built course. A 30-minute practice session ensued and due to the threat of more wet weather in the forecast, the twenty semi-finalists were then given three runs of which their best would count as their final score and result. There would be no time for Finals. The delayed webcast churned out the play-by-play to viewers around the planet and the die-hard skate fans that remained in their seats with umbrellas and panchos ready were provided on hell of a show! In the end Tom Schaar held on to win the whole enchilada with diverse runs and consistency.
This morning's VPS Oceania Continental Men's Championships brought together nineteen talented skateboarders from the South Pacific Region for a chance to compete in the 2017 ISF-sanctioned VPS World Championships. After frequent weather delays, the regional qualifier event, which is open to local registered and approved entrants, was postponed until clear skies this morning allowed for an adjusted finals competition. New Zealand native Bowman Hansen, dialed in his run with a backside boneless revert on the tombstone to secure his keep as the first regional VPS Oceania Continental Championship winner and an invite to join the VPS Select Pros in the series' world championship event later this year.
Upstart rippers Keegan Palmer and Jedd Mckenzie also made their way the podium for second and third place spots.
High fives and hats off to all of those that skated, and helped in any way to make this event happen. It was certainly one for the history books!
Be sure to visit and follow SkateDaily's Facebook page for complete VPS Sydney results and a sick photo gallery from this first stop of the Vans Park Series. Additional images, videos and information of the Sydney stop can be found at the Vans Park Series website.
Final Results
Pro Men
1. Tom Schaar
2. Ivan Federico
3. Pedro Barros
VPS Oceania Continental Championships – Women
1. Poppy Starr Olsen – Advancing to VPS Women's World Championships
2. Shanae Collins
3. Taniah Meyers
VPS Oceania Continental Championships – Men
1. Bowman Hansen – Advancing to VPS Men's World Championships
2. Keegan Palmer
3. Jedd Mckenzie