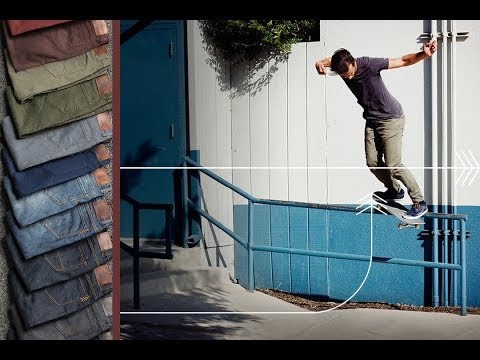 Element & Chad Tim Tim proudly introduce the new Made to Endure denim & chino collection, commercial & fit guide.
etnies threw a party for Ryan Sheckler, at the Sheckler Foundation's training facility to celebrate their partnership that has spanned 15 years. When Ryan was seven years old, he was already an innovative skateboarder, inspiring guys twice his age and accomplishing tricks some people only dream of. etnies took notice, welcomed him to the team and hasn't looked back.
"I'm stoked to be a part of etnies for 15 years. Loyalty is a word that gets thrown around so often, but when you step back and look at the big picture, you see that not many stay true to it. I glad that we have," said Ryan Sheckler.
In true skate fashion, etnies team riders and many others kicked the party off with a session in the skatepark. The event's more than 250 attendees included Ryan's family, friends, media, and etnies reps from all over the world.

After a bit of a break, Epicly Later'd has returned to bring us a great feature on Liverpool, England's Geoff Rowley. In this first part they follow him around his hometown to witness some of his old skate spots and also visit London and other areas to meet up with some of his British peers.
Skatersatlas has posted up their first of three edits from the streets of Stuttgart. Look for the parts 2 and 3 very soon.

After two successful days of competition in St. Louis and Chicago, the shops aprt of Red Bull Interskate made the 90 minute trek up Intersate 94 from the Windy City to Milwaukee for the third leg of the competition.
With their victory in Milwaukee, Famila skate shop takes the upper hand heading into the superfinal at their home shop in Minneapolis. Stay tuned for the full recap from Red Bull Interskate.
Arnette Eyewear presents some exclusive footage of Pat Duffy, Mark Appleyard, Willy Santos, Danny Supa, Luis Tolentino, Filipe Ortiz, Sierra Fellers, Scott & Ryan Decenzo taking to the roads of Raleigh, North Carolina.