For the latest episode of Brainstorm, the DGK media team traveled to Oceanside, CA to meet up with BB Bastidas and get the low down on his background, trips, influences, and his upcoming collaboration with DGK. BB will also be unveiling 30 new paintings at the Fuck BB art show and collaboration release party which will be held on August 29th at the Kayo Store located at 464 North Fairfax, Los Angeles, CA 90036.

Strange Notes has launched an all new website armed with a new search bar to deliver you a visual smorgasbord with numerous things featuring your favorite brands and team riders from the NHS compound. Head on over, drop a bookmark and check back for new goods regularly!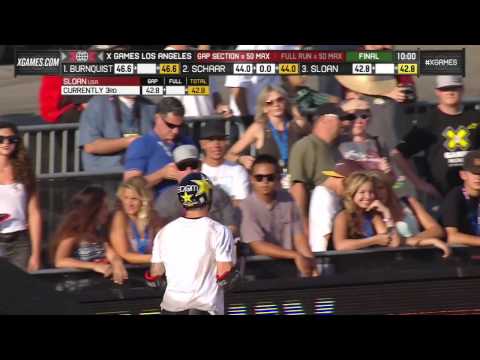 The final events of X Games' 2014 Global Tour entertained thousands in attendance over the weekend and wrapped up its ten-year run in Los Angeles. In Big Air, New York native Elliot Sloan battled through the competition and sharp winds to take home his first-ever X Games gold medal. Little man Tom Schaar spun a 900 in one of his runs and landed in second and "Mr Dreamland" Bob Burnquist put on the heat but, unfortunately fractured his nose upon landing a massive Indy 720. He garnered the bronze for his valiant efforts.
Notably, the allure and excitement of the Skate Park event was missing in Los Angeles and those looking to witness some pro level gravity defying skateboarding at the Staples Center would have to defer to the straight walls of the halfpipe for the Vert Finals.

Noentheless, in the Vert Finals and going for a 2013 X Games Grand Slam, Bucky Lasek came out swinging and nailed his first run to earn a score of 91.00 and seize a four-peat in X Games gold medals this year. Congrats Bucky!

Final Results
Big Air
1. Elliot Sloan
2. Tom Schaar
3. Bob Burnquist
4. Jagger Eaton
5. Edgard Pereira
6. Nolan Munroe
7. Jake Brown
8. Mitchie Brusco
Vert Finals
1. Bucky Lasek
2. Pierre Luc Gagnon
3. Andy Macdonald
4. Marcello Bastos
5. Rony Gomez
6. Sandro Dias
7. Paul-Luc Ronchetti
8. Sam Beckett
9. Alex Perelson
10. Tom Schaar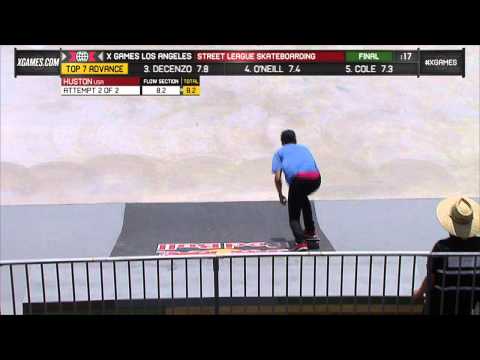 The sixth stop of the Street League Nike SB World Tour wrapped at X Games Los Angeles with Nyjah Huston returning to the top of the podium where he feels most comfortable and familiar. Chris Cole earned enough points to land in second with Luan Oliveira bumping out LA's SLS Select Series winner, Ryan Decenzo for the third place spot. Through this year's Select Series, both Ryan and Manny Santiago have earned spots on Street League's upcoming 2014 tour. Greg Lutzka missed it by just one point. The SLS $200,000 Super Crown World Championship takes place on August 25th in Newark, New Jersey. Chris Cole and Paul Rodriguez will look to carry momentum from their recent wins, while Nyjah tries to get back to the top after his earliest exit ever last month in Portland.
Final Results
1. Nyjah Huston
2. Chris Cole
3. Luan Oiveira
4. Ryan Decenzo
5. Shane O'Neill
6. Paul Rodriguez
7. Torey Pudwill
8. Bastien Salabanzi
It has just been announced that the inaugural Volcom Bowl-A-Rama Getxo (Basque Country) will be added to the global concrete bowl series on Saturday, September 6th, 2014. The Volcom BOWL-A-RAMA Getxo will be a week dedicated to celebrating art, music and true skateboard culture.
The contest showcases the world's best Pro and Masters bowl skateboarders as they compete at the first skatepark in the Basque Country – La Kantera. The park, along with its world renowned kidney pool, is located among the castle ruins at Arrigunaga beach in the Abra Bay of Getxo, Spain.
"We are stoked on having Bowl-A-Rama at one of the best pools in Europe and home to Alain Goikoetxea, our longtime Basque team rider and local tranny ripper. We'll be there to watch the action go down!" Phil Lalemant, Marketing Director – Volcom Europe
"Everyone at Bowl-A-Rama is so stoked to be finally bringing our festival and comp to Getxo in Europe. The support Getxo city, Kako's skate shop and Volcom have extended to make this possible is awesome. We want to ensure we do the best by the skaters and their fans at each stop of the series. Holding the first Bowl-A-Rama Getxo in 2014 is our way of ensuring longevity with the competition and supporting the scene properly. See you all at Volcom Bowl-A-Rama Getxo 2014!" Chad Ford, Director of Frontside Events