Venture Trucks just dropped a new Awake video with a minute and a half of bangers from Chris Joslin. Peep it!
The 12th Annual Vans Pool Party nears and returns to the Combi bowl, Saturday, May 14th. On the heels of last year's incredible hip transfer by pro Pedro Barros to close out the show, the Vans Pool Party will turn up the heat with seasoned veterans such as Chris Miller, Bucky Lasek, Lance Mountain and Steve Caballero, plus defending Pro division champion Tom Schaar alongside Cory Juneau, Tristan Rennie, Chris Russell and many more.
Be sure to watch the action live at vans.com/poolparty on Saturday, May 14th beginning at 3pm PST.
Vans Pool Party Event Schedule
3:00pm Webcast Begins
3:15pm Masters Final
4:00pm Pro Semi Final
5:30pm Legends Semi Final
6:30pm Legends Final
7:00pm Pro Final
8:00pm Awards
The International Association of Skateboard Companies (IASC) and the International Skateboarding Hall of Fame have proudly to announced this year's Skateboarding Hall of Fame inductees: Skip Frye (1960s), Ty Page (1970s, Era One), Steve Alba (1970s, Era Two), Eddie Elguera (1980s, Era One), Tommy Guerrero (1980s, Era Two), Ed Templeton (1990s) and three women – Ellen Berryman (1970s), Cindy Whitehead (1980s) and Jen O'Brien (1990s). This year's Icon Award recipients are pioneering skateboard company Powell-Peralta, photographer/writer/designer Mörizen "Mofo" Föche and legendary hardcore punk band Suicidal Tendencies. The induction and awards ceremony will be held on May 13th, 2016.
After four years of phenomenal growth onsite at the IASC Summit, this year the Skateboarding Hall of Fame will be held at the City National Grove of Anaheim. Hosting at this incredible new venue is made possible thanks to the generous support of our presenting sponsor Vans. The doors will open for happy hour at 5:00 p.m. on May 13th, with the VIP Meet-and-Greet and dinner beginning at 6:00 p.m., with the ceremony following at 7:30 p.m. Along with the induction ceremony and Icon awards, there will be musical performances by inductee Steve Alba and the Powerflex 5, as well as Icon award recipient Mofo of the Drunk Injuns. For tickets to the Skateboarding Hall of Fame, please visit: https://2016-shof.eventbrite.com.
"When Steve Van Doren let us know Vans wanted to step up and really do the Skateboarding Hall of Fame right as part of their 50th year anniversary celebration, I knew we'd have the chance to do something really special," said Josh Friedberg, Skateboarding Hall of Fame Ceremony producer. "The show has just gotten better every year, but now that we're in an event space like the City National Grove of Anaheim, there is no doubt in my mind that this will be the best year yet."
Created in 2009, The Skateboarding Hall of Fame recognizes and honors the history of skateboarding and those influential figures who have significantly shaped skateboarding and our culture throughout the years. All proceeds benefit the not-for-profit efforts of the Skateboarding Hall of Fame and the Go Skateboarding Foundation's Just One Board initiative.
Selection for the Skateboarding Hall of Fame isn't wholly determined by seasons, contest results or stats. Above all else, innovation, influence and creativity are honored as the drivers at the heart of the constant evolution of skateboarding.
Current Inductees include: Bruce Logan, Torger Johnson, Danny Bearer, Tony Alva, Stacy Peralta, Jay Adams, Tony Hawk, Steve Caballero, Mark Gonzales, Danny Way, Eric Koston, Bob Burnquist , Patti McGee, Peggy Oki, Woody Woodward, Tom Sims, Alan "Ollie" Gelfand, Rodney Mullen, Christian Hosoi, Wendy Bearer Bull, Laura Thornhill Caswell, Gregg Carroll, Jim Muir, Steve Olson, Lance Mountain, Natas Kaupas, Laurie Turner DeMott, Ellen Oneal Deason, Brian Logan, Henry Hester, Duane Peters, Neil Blender, Chris Miller, John Cardiel, Robin Logan, Cara-Beth Burnside, and Elissa Steamer.
Current Icons: CR Stecyk, Larry Stevenson, John Humphrey, Frank Nasworthy, Glen E. Friedman, Black Flag, Warren Bolster, NHS, Devo, Steve Van Doren, James O'Mahoney, Tracker Trucks, Fausto Vitello, J.Grant Brittain and Pipeline Skatepark.
The Skateboarding Hall of Fame and Icon Awards Ceremony is a production of the International Association of Skateboard Companies' Go Skateboarding Foundation under license from the International Skateboarding Hall of Fame™.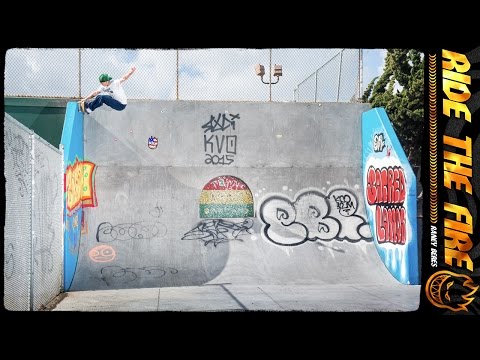 Dip into two minutes of Spitfire Wheels' non-stop destruction featuring Raney Beres, Austin Kanfoush, Andy Roy, Frank Gerwer, T-Mo, Albino and Jafin Garvey filmed by Jeremy McNamara and Gabe Morford.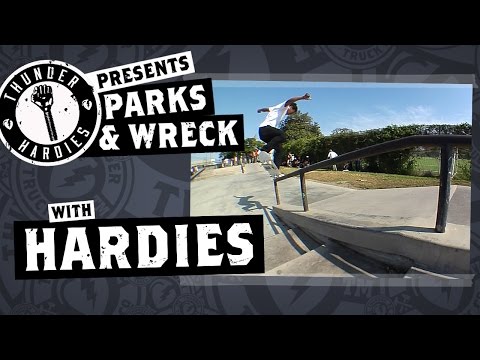 Thunder Trucks has joined up with Hardies Hardware with a new limited one-time release, Thunder X Hardies Hollow Lights – only available in Skate Shops & at hardieshardware.com. Check out the new collar trucks and Thunder x harries Parks and Wreck edit with Kevin Bradley, Jake Donnelly and Na-Kel Smith.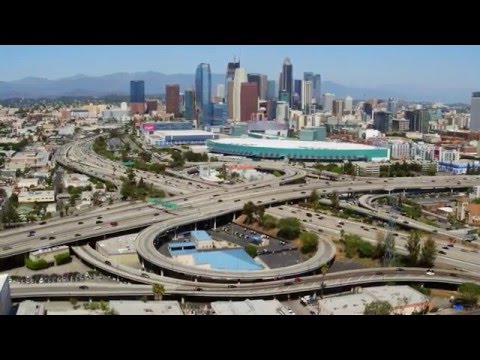 Volcom has officially announced the global premiere dates for its latest full-length skate video, Holy Stokes in this short visual piece. Check out the dates and more info right here.