Peep the latest and greatest from Gonz and the Krooked Kamp in their newest Summer '16 release of goods.
The Vans Park Series drops in on Vancouver, BC tomorrow and on Saturday for the third stop of its 2016 tour. Be sure to tune into the live webcast on Saturday at 2pm PDT for the action of the Semifinals and Finals!
Park Series Select Pros – Confirmed for Vancouver
Curren Caples
Jack Fardell
Oskar Rozenberg Hallberg
Ben Hatchell
Kevin Kowalski
Chris Russell
Ronnie Sandoval
Grant Taylor
Vans Park Series Challenger Rankings
1st – Tom Schaar
2nd – Alex Sorgente
3rd – Ivan Federico
4th – Cory Juneau
5th – Miguel Oliveira
The top five Challengers to emerge from the Mens Park Series Global Qualifier system will challenge the 15 exclusive PS Select Pros in Malmö, Sweden for the inaugural International Skateboard Federation-sanctioned park terrain Vans Park Series World Championships.
Visit www.vansparkseries.com for the latest updates, contest schedules, rider profiles, and follow the action on Instagram, Facebook and Snapchat at @vansparkseries.
Street skating veteran Paul Rodriguez used his strategy of skill and consistency to take home the SLS win in Munich over the weekend. Dig in right here for the details.
SLS Munich Final Results
1. Paul Rodriguez – 34.0
2. Luan Oliveira – 32.7
3. Nyjah Huston – 32.1
4. Tom Asta – 30.4
5. Tiago Lemos – 27.2
6. Shane O'Neill – 24.9
7. Carlos Ribeiro – 22.7
8. Ryan Decenzo – 21.1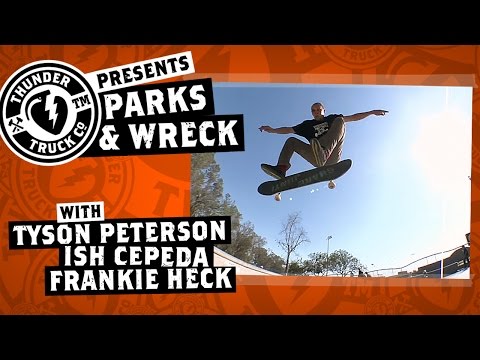 The new Thunder Trucks Summer '16 release just dropped. Check out the full catalog featuring Miles Silvas' new Thunder ad and the newest Parks & Wreck video with Frankie Heck and a whole crew of Thunder Team riders hitting up the Santa Ana Park.
On this day also known as "Go Skateboarding Day" The Skateboard Mag has released Kevin Kowalski's video part that is sure to inspire as it does to make you head spin. So damn heavy. Congrats Kevin!
Get out there and make it happen today as a skateboarder!
Danny Dicola juices around his neighborhood destroying a variety of crusty spots for the new Ditch Witch color-way and size by OJ Wheels.