Chris Pierre-Jacques spends a day at the LES Park in New York for this clip from Bones Bearings.

Kent Sherwood (Jay Adams' step-dad) was the man behind the manufacturing of the Zephyr Fiberglass skateboard. In 1976, Jay Adams and Kent split from the Zephyr team and started the short lived E-Z Rider brand that then became Z-Flex Skateboards that is still around today. With his refined skill in fiberglassing they launched the first Z-Flex skateboards in 1976 from his workshop in Venice. Coming out initially with three different shapes, with the inclusion of the Jimmy Plumer later, Z-Flex Skateboards was one of the premier skateboard brands of that era. Now generations strong, Z-Flex remembers its rich history and continues its path of determination and dedication to skateboarding through a limited release of iconic Z-Flex Vintage Premium (ZVP) products.
To celebrate the heritage of skateboarding and the brand, Z-Flex reunited team members from the past as well as fellow skaters of the 70's to re-tell the ever-popular Dog Town story from the people that actually lived it. In this two part mini-documentary series take a trip back to the 70's to relive the skaters, spots, style, and products that shaped skateboarding as we know it today.
Filmed by: Jon Holland, Ted Newsome, and Ewan Bowman Edited by: Jon Holland Interview Audio by: Ryan Carmen
Bones is giving away a set of Bones Swiss Bearings on Curren Caple's Facebook page for the next month. This contest is open worldwide and there are four chances to win, so go to Facebook and "Like" Curren's page to sign up. The first winner will be announced tomorrow November 8th.
Powell-Peralta has launched its new website. Drop by to check out their new line of goods, team profiles and more. Be sure to sign up for their Intelligence Report too!

Levis Skateboarding got behind FTC and with their their combined creativity they took For The Cash 3 to their backyard behind the shop last month. The heavy list of invitees showed up and delivered big time. Roll the clip!
Final Results
1. Jack Fardell
2. Tristan Funkhouser
3. Evan Smith
Best Trick
Tom Remillard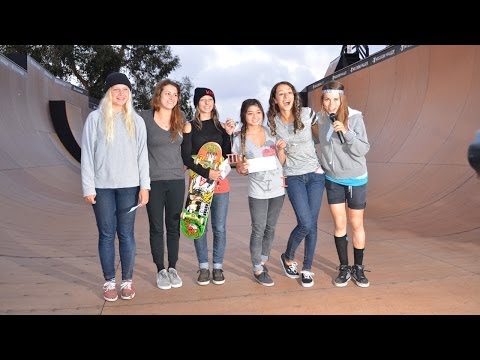 At San Diego's Mission Valley YMCA Amelia Brodka organized and launched the first-ever EXPSOURE 2013 to raise awareness about women's skateboarding and to generate funds to support victims of domestic violence.Tax deductible donations are still being accepted and go to a 501(c)3. Donate here.
Have a look at the video from the Pro Bowl Finals and check the complete results including the amateur competitions too. WCS' Dave Duncan has the recap right here as well.
Final Results
Pro Bowl
1. Allysha Bergado ($1200)
2. Lizzie Armanto ($1000)
3. Julz Lynn ($900)
4. Nora Vasconcellos ($800)
5. Amelia Brodka ($600)
6. Sarah Thompson ($500)
Pro Vert
1. Lizzie Armanto ($1200)
2. Mimi Knoop ($1000)
3. Allysha Bergado ($900)
4. Gaby Ponce ($800)
5. Nicole Hause ($600)
6. Karen Jonz ($500)