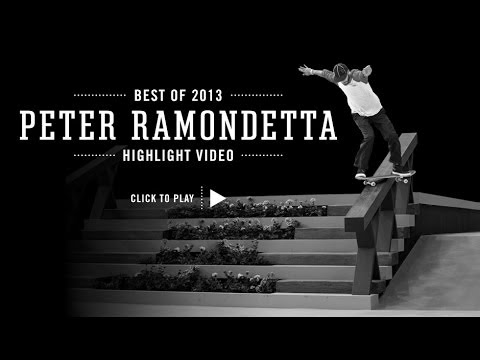 Peter Ramondetta is the latest skater to be featured in Street League's Best of 2013 series.
Check out the footage from the all new Nassim Guammaz Spitfire ad as well as Marc Johnson burning money, Koston sinking a hole in F1, Reynolds with his own hot sauce, Mariano praying to fire and much more from Spitfire.
Justin Brock's SB Chronicles 2 page is now ready to view with photos and a brief interview. SB Chronicles 2 will premiere in the Nike SB App on December 3 and will be available at iTunes December 10.
Chris Pierre-Jacques spends a day at the LES Park in New York for this clip from Bones Bearings.

Kent Sherwood (Jay Adams' step-dad) was the man behind the manufacturing of the Zephyr Fiberglass skateboard. In 1976, Jay Adams and Kent split from the Zephyr team and started the short lived E-Z Rider brand that then became Z-Flex Skateboards that is still around today. With his refined skill in fiberglassing they launched the first Z-Flex skateboards in 1976 from his workshop in Venice. Coming out initially with three different shapes, with the inclusion of the Jimmy Plumer later, Z-Flex Skateboards was one of the premier skateboard brands of that era. Now generations strong, Z-Flex remembers its rich history and continues its path of determination and dedication to skateboarding through a limited release of iconic Z-Flex Vintage Premium (ZVP) products.
To celebrate the heritage of skateboarding and the brand, Z-Flex reunited team members from the past as well as fellow skaters of the 70's to re-tell the ever-popular Dog Town story from the people that actually lived it. In this two part mini-documentary series take a trip back to the 70's to relive the skaters, spots, style, and products that shaped skateboarding as we know it today.
Filmed by: Jon Holland, Ted Newsome, and Ewan Bowman Edited by: Jon Holland Interview Audio by: Ryan Carmen
Bones is giving away a set of Bones Swiss Bearings on Curren Caple's Facebook page for the next month. This contest is open worldwide and there are four chances to win, so go to Facebook and "Like" Curren's page to sign up. The first winner will be announced tomorrow November 8th.