Latest News
After years of separation, Bones Wheels has welcomed Steve Caballero back to its squad with a new signature wheel.
Real Skateboards has released Robbie Brockel's pro site with a Brockel greatest hits edit and video footage from his pro surprise this weekend at PHXAM. When the whole crew can keep a secret…..you end up with one hell of a pro surprise. Dig in! Congrats Robbie!
After Robbie Brockle was surprisingly stopped mid-run for disqualification and thereafter swarmed by friends, fans and well wishers turning him pro for Real Skateboards, Zion Wright took home his first PHXAM win when it all came down to today's top twelve battle of finalists.
Final Results
1. Zion Wright
2. Yoshi Tannenbaum
3. Dashawn Jordan
4. Jagger Eaton
5. Bryant Chapo
6. Evan Montiero
7. Jamie Foy
8. Alex Midler
9. Enzo Catella
10. Josh Baldwin
11. Axel Crysburghs
12. Corey Millet
Red Bull Best Trick
1. Josh Baldwin – Switch Inward Heelflip $2500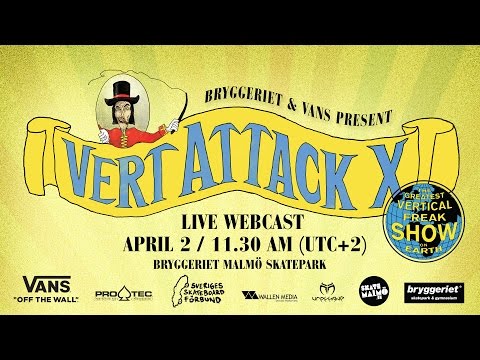 Vert Attack X certainly confirmed that vert skateboarding is alive a well amongst all generations and both genders of skaters worldwide. Those gathered elbow to elbow at the Bryggeriet Skatepark in Malmö, Sweden definitely felt the energy in the room on Saturday. And of course many others online were afforded to witness the sickness live and loud as well. Check out the archived live webcast above. The high energy skating of each division's Final power punched the crowd and scorched their vocal cords in screaming approval. It was one for the history books for sure!
Congrats to Clay Kreiner, Neal Hendrix, Lizzie Armando and Tate Carew for taking home the top honors in their respective divisions at VAX! A recap video of the event's insanity is currently in the works so be sure to check back with the crew at skatemalmo.se frequently.
Final Results
Pros/Ams
1. Clay Kreiner – USA
2. Jimmy Wilkins – USA
3. Sam Beckett – UK
4. Rune Glifberg – Denmark
5. Chris Russell – USA
6. Jessie Thomas – UK
7. Edgard Pereira – Brazil
Masters
1. Neal Hendrix – USA
2. Jocke Olson – Sweden
3. Nicky Guerrero – Denmark
4. John Magnusson – Sweden
5. Mike Frazier – USA
6. Sebastien Daurel – France
7. Mathias Sernklo – Sweden
8. Rich Lopez – USA
Ladies
1. Lizzie Armando – USA
2. Brighton Zener – USA
3. Nicole Hause – USA
4. Allysha Le – USA
5. Poppy Starr Olsen – Australia
6. Julz Lynn- USA
7. Jordyn Barratt – USA
Juniors
1. Tate Carew – USA
2. Allessandro Mozzova – Italy
3. Luigi Cini – Brazil
4. Gabriel Machado – Brazil
5. Tyler Edtmayer – Germany
6. CJ Collins – USA
7. Robin Bolian – France
PHXAM 2016 is happening right now. Tune into the live webcast as Andrew Cannon and Chris Pastras bring you the play-by-play with the Semi-Finals and Finals this afternoon!