Derek Rinaldi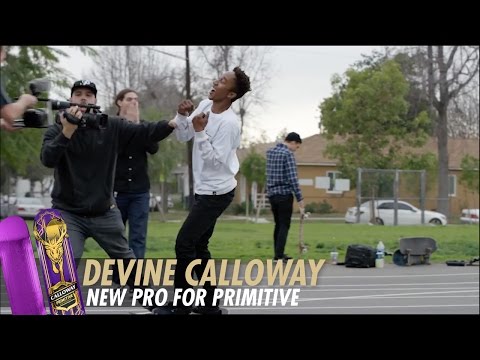 Primitive Skateboarding has announced the addition of Devine Calloway to their pro roster.
The folks over at SOLO Skateboard Mag have taken some unused clips of André Gerlich from the Levi's Spot Delivery Tour video and compiled it with the already released footage and created a new part out of it.
Yesterday, DC Shoes packed the house at the Ace Hotel in Downtown Los Angeles with notable individuals like Dave Carnie, Sean Cliver, Johnny Knoxville, Mike Carroll, Jeff Tremaine, Jason "Wee-Man" Acuna, Chris Pontius and countless other individuals to celebrate its Big Brother collaboration and book launch. From a remake of Dave Carnie's "pro model" shoe, Big Brother memorabilia to an ice sculpture spelling out "shit," nothing was off limits.
"The DC x Big Brother collaboration gives nod to some of the most unforgettable moments in skateboarding and we're proud to pay tribute to that heritage," said DC's Vice President of Marketing, Megan Easley.
The capsule collection and an exclusive "Big Brother Book" highlighting the best and worst moments of Big Brother history was on full display throughout the night. People got a first-hand look at the collection launching February 1, 2016. The collection features the DC Sultan S shoe, t-shirts, a coaches' jacket and accessories featuring classic Big Brother Magazine covers.
For more information on the collaboration and to shop the Big Brother Collection, please visit finer retailers around the world or dcshoes.com, follow @dcshoes and search these hashtags #DCShoes and #DCBBSHITSHOW.
The search for spots through the Holy Land continues with Felipe Gustavo, Korahn Gayle, Rob Maatman, Boaz Aquino and Fries Tailieu duking it out on the lesser-seen terrain of the Levant. Click here to revisit part one of the journey.
Fun at the brisbane miniramp from the Aussie Aussie Aussie enjoi enjoi enjoi tour featuring Louie Barletta and Jack Fardell.