Bryce Kanights
The first rule of Freestyle Club is: You do not talk about Freestyle Club.
Over three decades ago, veteran freestyle skater Rodney Mullen invented many of the technical tricks which became the foundation of modern skateboarding. He recently rolled inside fashion photographer Steven Sebring's revolutionary 360 studio to showcase his first release of video footage in twelve years.
In the mid-nineties, a skateboarder named Jon Comer gained notoriety on the international scene. Despite having a prosthetic leg, Jon climbed the pro ranks and skated at the highest level. To this day, Jon continues to inspire generations of adaptive skateboarders. Here is one of their stories.
Born without hands and missing a leg from the knee down Oscar Loreto Jr. faces challenges few can relate to. Oscar was introduced to his passion of skateboarding by a picture of Jon Comer at an early age. Tired of being treated differently in traditional sports, Oscar found solidarity within the skateboard community.
Watch how one man's courage trickled-down to inspire generations in "An Ode to Jon Comer."
Directed by: Ben Stoddard
DOP: Jan Schuster
Assistant Director: Cassandra Surina
Music by: Jeremy Maclean-Wallace
For more information on Adaptive Skateboarding go to:
adacs.org/
Antihero's all new Summer 2016 catalog just went up. Consumer your inner consumer…
Andy Kuno has been a San Francisco skate rat since his teens. Through his father's work with the SF Giants and 49ers he became interested in photography and eventually turned it into his career as the team photographer for the San Francisco Giants.
And although he shoots a team based sport as his profession, Andy's love of skateboarding hasn't diminished. In fact, it's how he rolls to the ballpark everyday. Have a look into one particular day this past May, where Andy met up with John Cardiel to bring some custom made Chrome bags to the SF Giants players Matt Duffy and Hunter Pence. Filmed by Dan Wolfe. Scored by Tommy Guerrero and BLKTOP Project.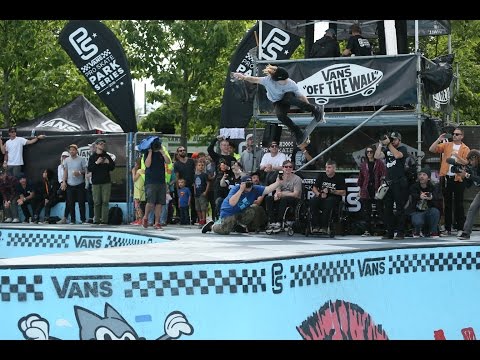 A powerful trio of teenagers swept the podium at the third stop of the Vans Park Series Global Qualifiers in Vancouver, BC this past Saturday. Italy's Ivan Federico stuck to his lines and consistency to nail down first place and moves into the lead for the Vans Park Series Global Challenger rankings. France's Robin Bolian claimed his first visit to the VPS podium landing in second place and Cory Juneau edged out Chris Russell for the third place spot.
Vancouver Qualifier Celebrates International Podium with Winners from Italy, France and USA

Vans Park Series Global Qualifier
Vancouver Results
1st – Ivan Federico
2nd – Robin Bolian
3rd – Cory Juneau
4th – Chris Russell
5th – Alex Sorgente
6th – Willy Lara
7th – Kevin Kowalski
8th – Oskar Rozenberg Hallberg
Vans Park Series Global Challenger Rankings
1st – Ivan Federico
2nd – Cory Juneau
3rd – Alex Sorgente
4th – Robin Bolian
5th – Tom Schaar
The top five challengers to emerge from the Mens Park Series Global Qualifier system will challenge the fifteen exclusive Park Series Select Pros in Malmö, Sweden for the inaugural International Skateboard Federation-sanctioned park terrain Vans Park Series World Championships.
Drop by the Vans Park Series site for the latest updates, contest schedules, and rider profiles. Follow the action on Instagram, Facebook and Snapchat at @vansparkseries.