Bryce Kanights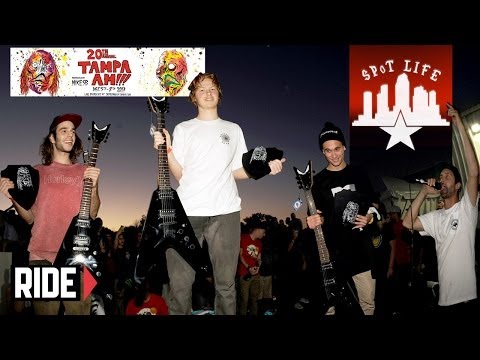 We've been watching Minnesota's Jack Olson rise up over the years and yesterday day was another benchmark in his young skateboarding career. He won 2013′s Tampa Am with some great runs filled with switchstance tricks like the ones above. Congrats Jack!
Check the other highlights the Skatepark of Tampa site and the final Tampa Am 2013 results below.
Final Results
1. Jack Olson
2. Jon Consentino
3. Pat Schaefer
4. Matt Berger
5. TJ Rogers
6. Tyson Bowerbank
7. Chase Webb
8. Brodie Penrod
9. Nassim Guammaz
10. Dashawn Jordan
11. Trevor Colden
12. Dylan Williams
Independent Best Trick Contest
1. Matt berger – Frontside bluntslide to big flip out
2. Sewa Kroetkov – 360 flip nose manual nollie front foot flip out
3. Jack Olson – Switch 180 crooked grind nollie kickflip out
4. TJ Rogers – Switch frontside bigspin noseslide to biggerspin out
5. Michael Davis – Switch frontside 270 shove to backside lipslide

Epicly Later'd delivers a bonus episode with pro skater Geoff Rowley where he takes Patrick O'dell and crew on a tour of his biking/camping journey across America. He discusses his philosophies on nature and how to balance his psycho skate regimen with finding his chill zone.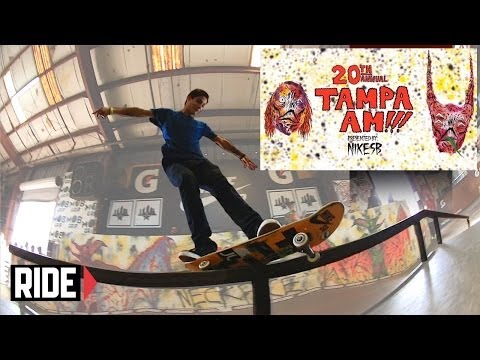 Day one of Tampa Am 2013 kicked off with some great practice sessions and the first rounds of qualifiers leading up to tomorrow's continued qualifying rounds.
Tampa Am's live webcast coverage of the qualifiers and Independent Trucks' Best Trick cranks up at 2pm ET/ 11am PST. Be sure to tune in!
Vans Bowl-A-Rama Bondi will be celebrating its 10th birthday in 2014 with skateboarding's most successful and influential skaters. The lineup is set to include Steve Caballero, Pedro Barros and Tony Hawk. Yes, he's coming out of his competitive retirement to shred in Australia's pinnacle of bowlriding competitions.
In its tenth year, Vans Bowl-A-Rama Bondi boasts a six day lineup of skateboarding infused cultural activities kicking off from February 18th, 2014 with the competition taking place Saturday, February 22nd.
"Vans have been supporting Bowl-A-Rama since the beginning and we are proud to continue to be part of such an iconic skate event that has become a true highlight of the global skateboarding calendar. We are very excited to bring out many of the Vans team riders, from the young guns to the legends and sharing the Vans Off The Wall Spirit in Bondi…" Says Ben Hapgood, General Manager, Vans Australia.
"I'm excited to finally participate in Vans Bowl-A-Rama Bondi after seeing the action from afar for so many years. It is the most prominent skate competition in Australia and I can't wait to skate it in person!" says Tony Hawk.