Bryce Kanights
Paul Hart just dropped a heavy full minute of footage for Venture Trucks' newest "Always On The Grind" clip. Peep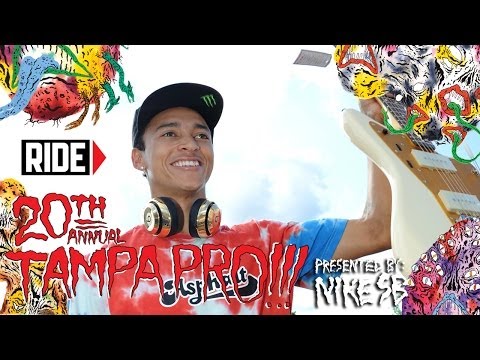 The twentieth running of SPoT's Tampa Pro wrapped up yesterday with Nyjah Huston taking his first professional win in Tampa. Chaz Ortiz emerged with his consistency to get back in the conversation and up on the podium in second and rookie pro Alec Majerus landed in third in his first professional contest.
Catch the archived webcast from Sunday's semi-finals and finals in its 6 hour and forty six minute entirety over at the Skatepark of Tampa.
Final Results
1. Nyjah Huston $20,000
2. Chaz Ortiz $15,000
3. Alec Majerus $10,000
4. David Gonzalez
5. Ishod Wair
6. Luan Oliveira
7. Manny Santiago
8. Kelvin Hoefler
9. Trevor Colden
10. Chris Cole
11. Evan Smith
12. Timmy Knuth
Vans and Jack's Garage in partnership with the City of Huntington Beach have announced the grand opening of the highly anticipated Vans Off the Wall Skatepark and Jack's Garage skate shop to take place on Saturday, March 22, 2014 in Huntington Beach, California. Commencing with an official ribbon cutting ceremony at 10am the free and public park will officially be open to the community until 4pm and from 10am to 7pm everyday thereafter. Activities and giveaways from Vans and Jack's Garage are planned throughout opening day to celebrate the occasion, including autograph signings from Vans pro skateboarders and the inaugural "SoCal Sole of Fame" induction ceremony where Huntington Beach skate legends Christian Hosoi, Ed Templeton and Tosh Townend will be honored for their respective contributions to local skateboarding.
Designed and built by California Skateparks, the newly constructed 42,500 square foot Vans Off the Wall Skatepark is located at 7471 Center Avenue in Huntington Beach, California and the 3,000 square foot on-site Jack's Garage store offers a fully-stocked skate shop featuring Vans and other top brands along with a pro shop for skate equipment and rentals.
"Working with the Vans organization and Steve Van Doren has been an experience I'll never forget," said Joe Ciaglia, CEO of California Skateparks. "Vans is a staple in skateboarding and we knew we'd have to live up to their reputation. With the creativity and passion contributed by both Vans and California Skateparks, this park is absolutely going to be the best in Southern California."
"Vans is honored to bring to the City of Huntington Beach a world-class skatepark that generations of kids and parents can enjoy forever," said Steve Van Doren, Vans' vice president of events and promotions. "We are happy to have this great park in Vans' backyard and just 10 minutes away from where we lived when my father moved to Southern California to start Vans."
Just in time for Tampa Pro, 2012's Tampa Am winner Trevor Colden has been ushered into the Pro ranks with his own Skate Mental signature model. During a skate session in Arto's backyard Curren Caples has joined the Monster Energy skate team roster. Hard Luck MFG is a skate related brand out of Japan headed up by Jason Jessee and friends that has finally made its way to the USA. Have a look and see what Team Go Fast is all about. Sad but true, nothing lasts forever, and as such, Ronnie Creager and Blind Skateboards have parted ways after a 20 year relationship. We wish Ronnie the best in his future endeavors.
Our friends at Stereo Skateboards have just announced their newest addition to the team, Jordan Hoffart @GoingHoff! We'll be giving away one of his new decks, the "SLAYTEREO" to one of our new Instagram followers.
The rules are simple to win this new deck. Just comment and tag a friend and follow @SkateDaily along with @StereoSkateboards. We'll pick and announce a winner at random by 10am PST Wednesday, March 19th.