Tom Schaar Repeats Vans Pool Party Win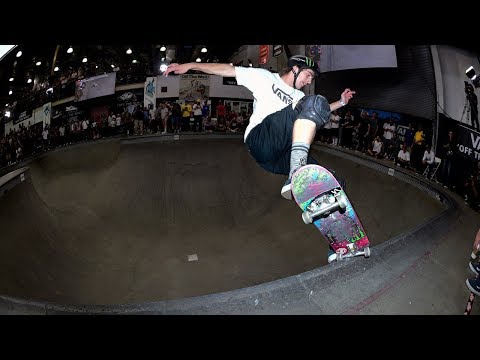 In one of the heaviest bowlriding battles yet this season, Tom Schaar once again rose above the pressure of the Vans Pool Party Pro Finals to secure a repeat win this year. In the Masters division, Brazilian pit bull Sandro Dias etched his name up onto the 2108 VPP banner with his first time win. Chris Miller fought off all challengers with skillfully consistent, technical and stylish runs in the Legends final with Eric Nash charging right behind him with raw power up onto the podium.
Tune into the archived 2018 Vans Pool Party webcast in case you missed it!
Final Results
Pro
1. Tom Schaar
2. Cory Juneau
3. Chris Russell
4. Tristan Rennie
5. Jimmy Wilkins
6. Kiko Francisco
7. Josh Rodriguez
8. Clay Kreiner
9. Keegan Palmer
10. Moto Shibata
Masters
1. Sandro Dias
2. Andy Macdonald
3. Chad Shetler
4. Mitchell Mendez
5. Lincoln Ueda
6. Darren Navarrette
7. Brian Patch
8. Steve Revord
9. Bennett Harada
10. Kris Reeves
Legends
1. Chris Miller
2. Eric Nash
3. Steve Caballero
4. Lance Mountain
5. Nicky Guerrero
6. Mike McGill
7. Pat Ngoho
8. Tony Magnusson
9. Christian Hosoi
10. Steve Alba
Comments are closed.