12th Annual Vans Pool Party Nears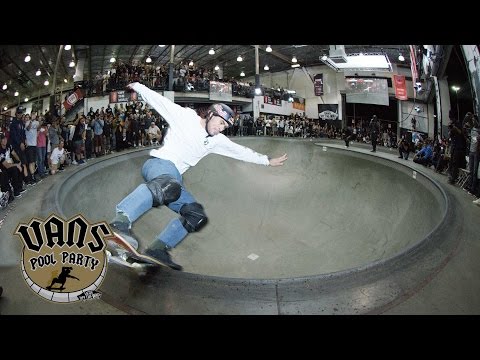 The 12th annual Vans Pool Party celebrates its legacy in modern vertical skateboarding at the world-famous Vans Combi Pool this Saturday, May 13th in Orange, CA. This heavy skate event will be broadcast worldwide once again at vans.com/poolparty featuring spirited commentary from Vans' announcers and special guests.
Renowned bowl Legends and Masters will join a stacked roster of over 30 leading Pros in a mind-blowing showcase of creativity and skill that pushes and progresses classic Combi bowl skating. Veterans Chris Miller, Lance Mountain (Defending 2016 Legend Champion), Steve Caballero, and crowd favorite Jeff Grosso are slated to mix it up, while today's top vert professionals like Pedro Barros (Defending 2016 Pro Champion), Tom Schaar, Cory Juneau, Bucky Lasek, and many more, will battle it out with today's arsenal of mind-bending stunts.
Event Schedule
3:00pm Webcast Begins
3:15pm Masters Final
4:00pm Pro Semi Final
5:30pm Legends Semi Final
6:30pm Legends Final
7:00pm Pro Final
8:00pm Awards
For more information on the Vans Pool Party, confirmed competitior lists, and daily coverage including photos, videos and blog updates from practice, visit vans.com/poolparty.
Comments are closed.