2014 CA Pro Am Havasu Results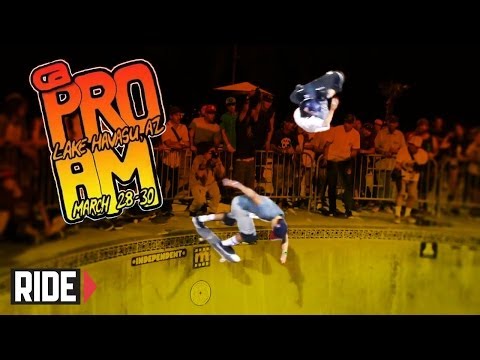 2014′s CA Pro Am at Lake Havasu is a wrap. The new skatepark on the shores of the lake played host to an assortment of top amateurs and pros with the Unsponsored Am event and Riot Race kicking things off on Friday, yesterday's Sponsored Am Qualifiers and the wild and heated Bounty in the Bowl competition last night, and today's Street Finals closing the door on a wild Spring Break weekend.
Drop by the CA Productions website for complete scores and results along with recap photos and more.
Final Results
Street
1. Enzo Cautela
2. Chase Webb
3. Blake Carpenter
4. Matt Berger
5. Corey Blanchette
6. Tyson Bowerbank
Bounty in the Bowl
Overall Rippers of the Night
Chris Gregson $1000
Aaron Jaws Homoki $1000
Fan Favorite
Willis Kimbel $400
Raven Tershy Bounty – Nosegrind (through the heart)
Chris Gregson $150
Lance Mountain Bounty – Sad Plant
Andy Macdonald $100
Mike McGill Bounty – 540 Over the Hip
Aaron Jaws Homoki $150
Steve Schneer Bounty – Eggplant, Frontside Invert & Ho-ho
Brian Patch (no hoho) $200
Tony Hawk and Andy Macdonald Bounty – Over and Under
Tom Schaar and Alex Sorgente $200
Danny Way Bounty – Highest Air
Alex Sorgente $100
Kevin Staab Bounty – Highest Ollie
Tom Schaar $150
Ben Schroeder Bounty – Longest Grind
Alex Sorgente $100

Peter Hewitt bounty – Longest Smith Grind
Josh Stafford $150

Jeff Grosso Bounty – Longest Boardslide
Adrian ? $150
Lincoln Ueda bounty – Biggest Tail Smack
Andy Macdonald $100