Exposure 2013 Results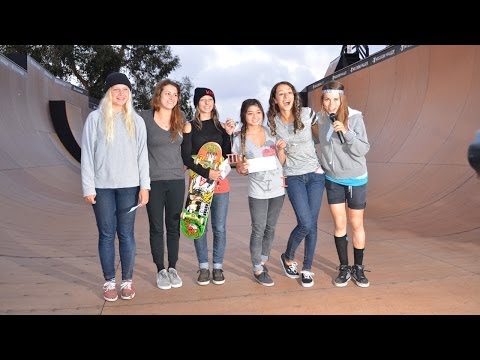 At San Diego's Mission Valley YMCA Amelia Brodka organized and launched the first-ever EXPSOURE 2013 to raise awareness about women's skateboarding and to generate funds to support victims of domestic violence.Tax deductible donations are still being accepted and go to a 501(c)3. Donate here.
Have a look at the video from the Pro Bowl Finals and check the complete results including the amateur competitions too. WCS' Dave Duncan has the recap right here as well.
Final Results
Pro Bowl
1. Allysha Bergado ($1200)
2. Lizzie Armanto ($1000)
3. Julz Lynn ($900)
4. Nora Vasconcellos ($800)
5. Amelia Brodka ($600)
6. Sarah Thompson ($500)
Pro Vert
1. Lizzie Armanto ($1200)
2. Mimi Knoop ($1000)
3. Allysha Bergado ($900)
4. Gaby Ponce ($800)
5. Nicole Hause ($600)
6. Karen Jonz ($500)