Chili Bowl 9 Results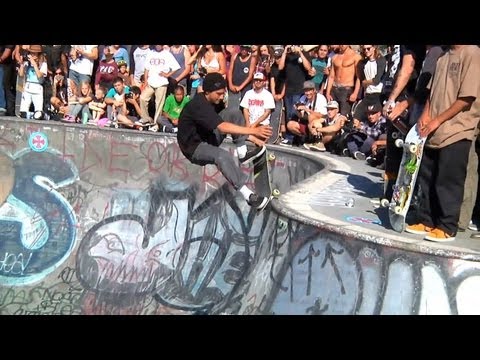 Toad and Salmon's Chili Bowl 9 got wild on Saturday afternoon with plenty of fools crowding the coping and shouting from Heckle Hill overlooking San Francisco's Potrero Del Sol skatepark. The collisions were brutal and the action was at an all time high. Peep the footage above and see for yourself!
Final Results
Pro/Am Open
1. Ronnie Sandoval
2. Chris Russell
3. Chris Gregson
4. Cody Chapman
5. Kevin Kowalski
6. Demarcus James
Masters
1. Jeff Taylor
2. Eric Bibelheimer
3. Jimmy Marcus
Women
1. Julz Lynn
2. Lizzie Armanto
3. Allysha Bergado
Kids
1. CJ Collins
2. Seth Sanders
3. Felix Meyers
Chili Cook Off
1. Josh Matlock – Grandma's Chili
2. Carmen and Lydia Visser – Goat Gap
3. Jane Ireland – Blood of The Beast
Comments are closed.