X Games Wraps Up in Los Angeles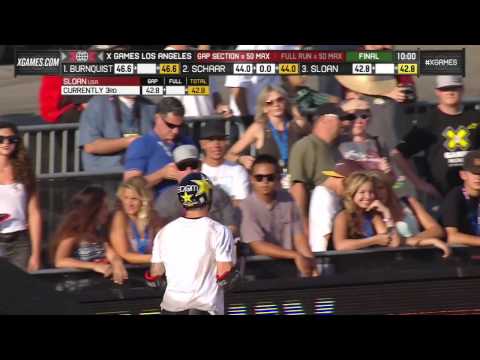 The final events of X Games' 2014 Global Tour entertained thousands in attendance over the weekend and wrapped up its ten-year run in Los Angeles. In Big Air, New York native Elliot Sloan battled through the competition and sharp winds to take home his first-ever X Games gold medal. Little man Tom Schaar spun a 900 in one of his runs and landed in second and "Mr Dreamland" Bob Burnquist put on the heat but, unfortunately fractured his nose upon landing a massive Indy 720. He garnered the bronze for his valiant efforts.
Notably, the allure and excitement of the Skate Park event was missing in Los Angeles and those looking to witness some pro level gravity defying skateboarding at the Staples Center would have to defer to the straight walls of the halfpipe for the Vert Finals.

Noentheless, in the Vert Finals and going for a 2013 X Games Grand Slam, Bucky Lasek came out swinging and nailed his first run to earn a score of 91.00 and seize a four-peat in X Games gold medals this year. Congrats Bucky!

Final Results
Big Air
1. Elliot Sloan
2. Tom Schaar
3. Bob Burnquist
4. Jagger Eaton
5. Edgard Pereira
6. Nolan Munroe
7. Jake Brown
8. Mitchie Brusco
Vert Finals
1. Bucky Lasek
2. Pierre Luc Gagnon
3. Andy Macdonald
4. Marcello Bastos
5. Rony Gomez
6. Sandro Dias
7. Paul-Luc Ronchetti
8. Sam Beckett
9. Alex Perelson
10. Tom Schaar
Comments are closed.