X Games Munich Results

X Games wrapped up on Sunday at Munich's 1972 Olympic Stadium, and despite some dark and rainy skies and a few rescheduled events through the week it was a great time overall. In the Skateboard Park Final Curren Caples put together a solid and diverse last run to put up a enough points to overcome the power and style of Pedro Barros and beat his winning streak. Indeed, a more powerful and technical Curren has emerged.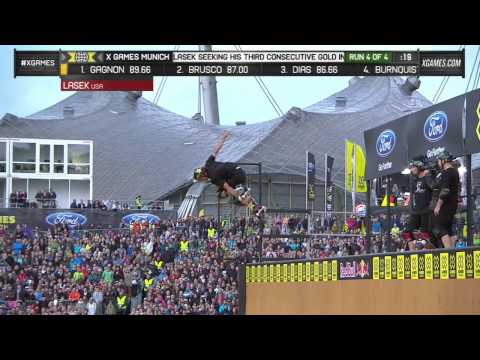 Going from worst to first in the Vert Final, Bucky Lasek nailed a very technical last run, beat PLG's high score and claimed the top spot on the podium. It was a stunner that some feel that only someone like Bucky could pull off. Three-peat at X Games 2103.

Chris Cole has finished in second place five times in Street League, losing mostly to Nyjah Huston. He took his first Street League win as Paul Rodriguez came up short on a his final trick a switch 360 flip on the Impact section of the course. Congrats Chris!
The X Games Munich skateboarding events closed with Big Air under sunny skies with a packed venue and Bob Burnquist rose above to claim gold and his record breaking 25th X Games medal.
Last but not least, David Gravette's creative and powerful one-minute video part captured a large percentage of the fan vote to win Real Street.
Final Results
Skate Park
1. Curren Caples
2. Pedro Barros
3. Ben Hatchell
4. Brad McClain
5. Rune Glifberg
6. Kevin Kowalski
Vert
1. Bucky lasek
2. Pierre Luc Gagnon
3. Mitchie Brusco
4. Sandro Dias
5. Bob Burnquist
6. Tom Schaar
Street League
1. Chris Cole
2. Paul Rodriguez
3. Luan Oliveira
4. Sean Malto
5. Torey Pudwill
6. Shane O'Neill
7. Ishod Wair
8. Peter Ramondetta
Big Air
1. Bob Burnquist
2. Elliot Sloan
3. Tom Schaar
4. Jagger Eaton
5. Rony Gomes
6. Edgard Pereira
7. Alex Sorgente
Real Street
1. Guy Mariano
2. David Gravette
3. PJ Ladd
Fan Favorite (Voting)
1. David Gravette – 66% vote
2. Guy Mariano – 34% vote
Comments are closed.