Miller and Lasek Triumph at Van Pool Party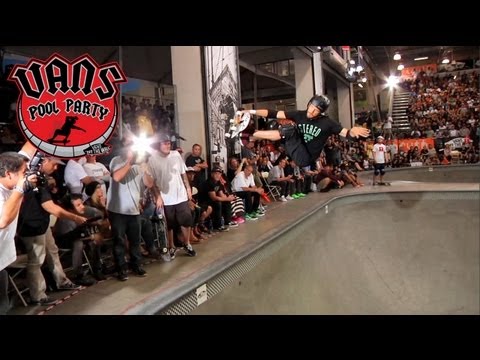 Vans Pool Party Masters Finals
The Vans Pool Party is one of those celebrated skateboarding events that gets better with age. In its 9th showing this past weekend, the Vans Skatepark hosted four generations of professional bowlriders along with a few ams that had earned a golden ticket to compete. The Masters heated up the Combi bowl with soulful lines and classic tricks and in the final rounds Chris Miller seized a victory over Steve Caballero with his consistency and powerful runs.
In the Pro division Bucky Lasek earned his return atop the podium by powering through his five allotted runs with a diverse approach, by not repeating his lines, and hammering out difficult and technical tricks. Roll the recap footage to see how it all went down.
Final Results
1. Bucky Lasek – $28,000
2. Pedro Barros – $14,000
3. Rune Glifberg – $7,000
4. Omar Hassan
5. Tom Schaar
6. Josh Rodriguez
7. Andy Macdonald
8. Cory Juneau
9. Austin Poynter
10. Giorgio Zattoni
1. Chris Miller – $15,000
2. Steve Caballero – $7,500
3. Christian Hosoi – $4,000
4. Mike McGill
5. Eddie Elguera
6. Jeff Grosso
7. Nicky Guerrero
8. Pat Ngoho
9. Duane Peters
10. Rob "Sluggo" Boyce
Comments are closed.