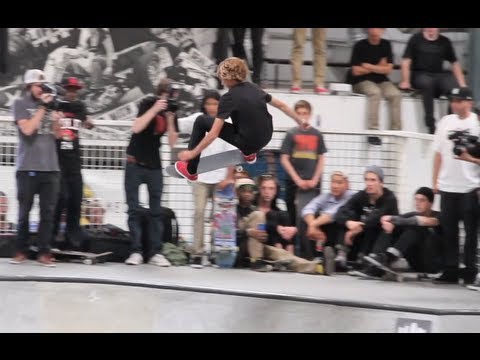 Following a hiatus for a couple of years, the Damn Am's west coast event returned this weekend to Costa Mesa, CA. Volcom hosted the three days of action at its new skate compound configured with street inspired bits surrounded by transitions.
Emerging from a field of young skaters from all over the map, the all terrain young gun Curren Caples took home the victory today. His best friend Louie Lopez followed up in second. Congrats!
Follow the Damn Am site for more info, complete results and a wrap up of footage showing all finals runs and the Red Bull Best Trick results.
Final Results
1. Curren Caples
2. Louie Lopez
3. Adriano Lachovski
4. Ethan Loy
5. Axel Crysberghs
6. Chase Webb
7. Trevor Colden
8. Anthony Anaya
9. Jereme Knibbs
10. Brodie Penrod
11. Javan Campello
12. Dashawn Jordan