2013 March
Kevin Coakley has been welcomed to the Think roster of rippers with this clutch of sick video clips.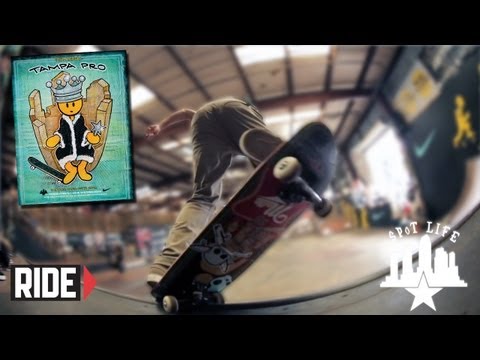 2013's Annual Tampa Pro at the Skatepark of Tampa was truly one for the history books. The renowned and celebrated contest celebrated its 20th year and hosted an epic gathering amongst many of the greatest skaters on the planet, mixed with industry VIP and insiders, vert veterans and more. When the dust in the skatepark settled, Luan Oliveira came out on top with the win with his consistency and supreme technical and powerful skills on his board. Congrats Luan!
He's been skating upon a solid and strong path of progression over the past two years and his skill speaks for itself. That said, Lifeblood Skateboards is honored and proud to welcome Josh Rodriguez to its team.
In this short video, Josh visited Kevin Kowalski at his very own backyard bowl (which is more like a private skatepark) to rip though an afternoon upon the challenging and unique terrain nestled along the Oregon Coast. Ready for more concrete and pool block, Josh followed up with an evening skate session at Phil Tedder's bowl before he flew back home the next morning. This young gun is on the rise!
The Jenkem site has been one of our favorite skate sites to view for quite some time. The primary reason being is that they deliver content that makes us think outside of the box and beyond which skater did what trick, who's riding for who, and the regular rigors and vibes of skateboarding.
They have just posted another great feature article which highlights the pointed and controversial question, "Is skateboarding ready to openly embrace a transgender skater?" In the piece, photojournalist Sam McGuire catches up with North Carolina's Hillary Thompson to hear her story first hand and perhaps open the minds of the youth that share the same passion for seeking out new skate spots and shredding them. Take the time to sit down and have a read through this article backed by great photos.
As you might remember, Chris Nieratko had interviewed her for Vice and Canada's Kingshit Mag back in 2011.